This soup is great any time of year. The hearty lentils help it to feel warm and comforting in the fall and winter…the beautiful orange color and light flavors make it a lovely spring and summer dish. There is no need for meat- no need for sides- this soup provides all of the protein, veggies and carbs you will need to fuel your body- in a very tasty way!
Mediterranean Lentil Soup
4 servings
onion 1 C, chopped
carrot 1/2 C, chopped
celery 1/2 C, chopped
garlic 3 cloves, minced
ginger 1 inch, minced
1 T tomato paste
1 t salt
1 t curry
1/2 t tumeric
1/2 t cumin
1 C red lentils
2 C water
1 C chicken stock
In a large pot over medium heat, combine the onion, celery and onion and sauté for five minutes. Now, add the garlic and ginger and cook for another 5 minutes.
Stir in the tomato paste, salt, curry, turmeric and cumin.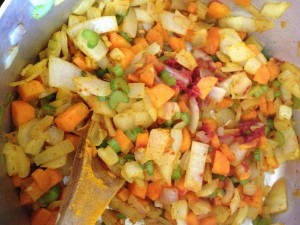 Add the lentils, water and chicken stock and bring to a boil. Reduce heat to low and cook for 20 minutes.