Spring has sprung!! This weather is so amazing and Gavin and I are loving spending time outside- going for walks, starting to learn how to do yard work (oh my, it is complicated!) and best of all, eating meals outside on the patio. If you can see past the yellow haze in the air from the 9,000,000 particles of pollen in the air, the weather is PERFECT for dining al fresco!
When I think about Spring time and Spring foods, I think of fabulous crisp vegetables and lovely citrus-y dressing…and after our lovely meal at the Viking Cooking School with our friends Chris and Michelle, I think of panzenela salad.
The version that we made at the school was delicious- though we might as well have eaten a cheese burger because of the amount of butter on the bread and oil in the dressing. So, since I like to think of a salad as a healthy, veggie filled alternative to a cheese burger- I set out to make a lighter version of this delicious salad.
Panzenela Salad
6 servings
3 C day old whole wheat bread, cut into 1 " chunks
olive oil cooking pray
2 cloves minced garlic
1/2 t sea salt
2 C red bell pepper, cut into 1″ pieces
2 C English cucumber, sliced and cut into quarters
1 C tomato, seeded and cut into 1″ pieces
1/2 C green onion, chopped
2 lemons, juiced
1/2 t sea salt
1 T olive oil
1 t fresh basil, chopped
1 t fresh mint, chopped
*crumbled feta, optional
*avocado, optional
Preheat the oven to 350 degrees. Spray a cookie sheet with olive oil spray. Place bread pieces on the cookie sheet and spray the top with olive oil. Toss in the garlic and salt and place in the oven to toast for about 15 minutes.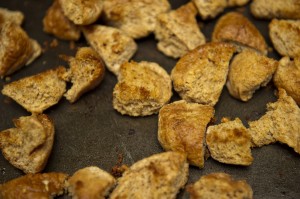 In a medium bowl, combine all of the other ingredients and toss together. To serve, place a 1/2 C of bread on each plate and then top with 1 C of the vegetable mixture.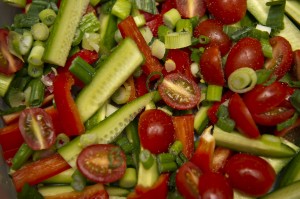 Top salad with crumbled feta and avocado, if desired.