Its no secret that I love my veggies- and that I love hosting brunch…for really ANY reason. It's your birthday? Let's have a brunch! It's Saturday? Let's have a brunch! It's President's Day? Let's have a brunch! You get the idea…brunch is my favorite meal to cook, to eat, and to host. So, I am always trying to come up with fun new menu items so that I don't bore my friends and family.
I made this egg bake for a family brunch- and though I had a lot of biscuit and gravy lovin' folks around the table- this healthy, colorful egg bake was quite a hit!
I served it with a simple sweet potato hash, some lovely maple glazed bacon, and a my banana oat muffins for good measure! The veggies load it full of vitamins, fiber and beauty…the eggs add protein and yumminess to make this the perfect breakfast bake…its super easy to make- and the veggies can be roasted ahead of time so that all you have to do is heat up the oven, crack the eggs and bake!
Superfood Egg Bake
1/2 C sweet onion, cut into 1″ pieces
1 /2 C yellow, red or orange bell pepper, cut into 1″ pieces
1/2 C zucchini, cut into 1″ pieces
1/2 C yellow squash, cut into 1″ pieces
1 C Kale, stems removed, leaves torn into bite size pieces
1/2 t sea salt
1/2 t fresh ground black pepper
a sprinkle of paprika or cayene pepper depending on how much you like spice!
6-8 large eggs
Preheat the oven to 425 degrees. Prepare your vegetables. Spray an OVEN SAFE pan with cooking spray. *I like to use my family's old iron skillet…you can use anything you would like- just remember the handle will be VERY hot when you take it out of the oven!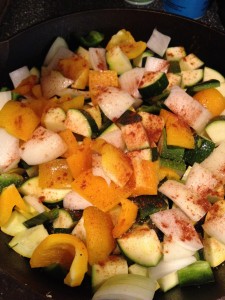 Place all of the veggies **except for the kale** into the pan and roast in the oven for about 30 minutes. After 30 minutes, give the veggies a stir, add the salt and pepper and the kale. Roast for another 10-15 minutes.

Now, carefully crack your eggs on top of the veggie mixture, spacing them evenly throughout the pan.

Bake for 5-7 minutes…until the eggs are cooked the way you like them. I made this for a crowd that did not like their eggs super runny- so I baked it for about 7 minutes. If I were making it just for Gavin and I, I would have done about 5 minutes.

This is great served with a quick sweet potato hash…or whole grain toast.