I will interrupt my travel tales to share a quick recipe with you- because I'm really excited about this one! When Spring is in the air, I absolutely love packing a simple little picnic, driving over to Piedmont Park, and having and outdoor dinner followed by a long walk around the park. Picnics and Springtime are one lovely combination…and the easiest way to create a lovely picnic is to have a sandwich be the star of the show.

I'm not talking about a boring turkey on white here- I'm talking about a delicious flavor explosion served with toasted cranberry walnut bread (or whatever bread/ lettuce wrap is your favorite)- it is the perfect, quick and easy picnic entree or grab and go lunch.

This chicken salad is mayo-free and therefore MUCH healthier than any store bought/restaurant purchased alternative….I promise, you won't miss the added fat at all…its creamy and delicious and full of light Spring time flavors! I like to make a big batch at the beginning of the week and have it as a quick healthy snack or lunch that's ready to go in the fridge.
Spring Chicken Salad
2 lb chicken breast
1 t garlic powder
1 t sea salt
1/2 C celery, chopped
1/4 C sweet onion, chopped
1/2 C apple, chopped
1/2 C green grapes, quartered
1/4 C walnuts, chopped
1/2 C 0% plain greek yogurt
2 T dijon mustard
2 T 1/3 less fat cream cheese, softened
1/2 t sea salt
1 t fresh cracked black pepper
1/4 C green onion, chopped
Preheat the oven to 375 degrees. Place your chicken in a glass baking dish (the kind with sides) and sprinkle the breasts with salt and garlic powder. Drizzle about 2 T of water in the dish and cover with aluminum foil. Bake for about 25 minutes- until chicken is cooked through.
When the chicken is cooked, remove it from the oven and allow it to cool. While it is cooling, chop the other ingredients. When the chicken is cool, chop it into small pieces.
In a large bowl, combine the chicken, celery, onion, apple, green grapes, and walnuts.
In a separate bowl, combine the greek yogurt, dijon mustard, cream cheese, sea salt and black pepper. Whisk until smooth and then stir the mixture into the chicken.
Top it with green onion and stir to combine.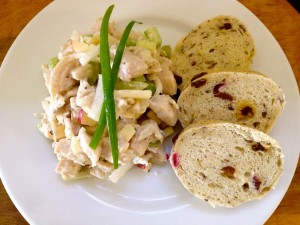 Now, all you have to do is dust off your picnic basket, choose your favorite bread and head the the park! If you're looking for a few other treats to complete your picnic- here are a few ideas:
Appetizer: Fancified Deviled Eggs
Side: Field greens tossed with Seasoned Rice Vinaigrette
Dessert: Cashew muffins with Coconut Crumble