I love sweet potatoes, really love them!  Sweet potato fries are one of my favorite little indulgences, but when it comes to sweet potatoes, I don't discriminate.  I love them roasted, baked, made into ice cream, used in bread and soups… they are so versatile and the best part is, they are SO good for you.  A few years ago, I read that sweet potatoes are the one food item that you can live of off and get enough nutrition to be healthy and balanced.  That's pretty amazing!
Here are the STATS:
One medium sweet potato has 103 calories and 0.2 grams of fat.  23 carbohydrates, 438% of your daily needed vitamin A and it is packed full of other vitamins from all over the alphabet!  They are a great source of dietary fiber, manganese and they are known to be a strong anti-inflammatory…so they are the perfect, tasty and satisfying addition to any meal!  Who needs those super processed 100 calorie packs, grab a sweet potato and enjoy!
This year for Thanksgiving, I wanted to serve sweet potatoes, but I wanted to stay away from anything resembling the super fatty, super sugary sweet potato pie that is so dearly loved in the South.  I had quite the challenge, because I had to come up with something equally as yummy to satisfy my hungry family…enter, the stuffed sweet potato!  No, it is not the traditional sweet, gooey delight…its nothing like it…but it was a hit, and the perfect little side to kick up any week night meal.
Stuffed Sweet Potatoes
4 Medium Sweet Potatoes
4 teaspoons of Brown Sugar
8 sprinkles of salt
1/2 Cup crumbled Blue cheese
4 crumbled pieces of crispy bacon
1/2 Cup toasted pecans
1/2 Cup dried cranberries
Preheat the oven to 425 degrees.  Place washed sweet potatoes on a cookie sheet and stick them in the oven to bake for 45 minutes to an hour…or until soft and creamy!  When the potatoes are finished, place them on the counter covered by a dish towel and allow them to cook off enough that they don't burn your hands!  Cut each potato in half and sprinkle with 1/2 teaspoon of brown sugar and salt to taste.  Use a fork to gently mix in the sugar and salt.  Sprinkle each potato with 1 Tablespoon of blue cheese 1/2 piece of bacon, crumbled, 1 Tablespoon of pecans and 1 Tablespoon of cranberries.  Right before you a ready to serve them, place them back on the cookie sheet and broil them for about 1 minute…serve hot!
Even though these sweet potatoes are packed with all sorts of decadent toppings, each serving has right a 200 calories…so enjoy!
Posted on
December 30, 2010
by
LindsayTarquinio
· 0 comments
Read More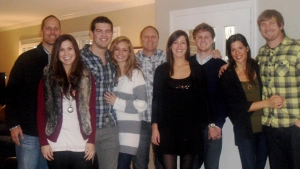 As I said before, I love to cook…but it goes a little deeper than that.  Cooking is a way that I show people that I love them…I might not be very good with words, but to me, nothing says "I love you" like a home made dinner, or a fresh batch of bran muffins!  So, its Christmas time…and I decided to make Christmas Brunch for some of the people that I love most in the world…
Because my kitchen is literally a wet bar in my grandparents basement (I'll explain this a little more later) our lovely friend Rich so generously lets me use his kitchen when I want to cook something that requires a little more than a hot plate…so, these pictures are taken in his home…(side note:  I usually try to focus on things being healthy AND yummy…but its Christmas, so this menu might be yummy, but the healthy part pretty much went out the window!)
Cinnamon Roll Baked French Toast (Make the night before)
This is my go-to recipe for breakfast with friends.  It is SUPER easy and always a hit.  You can make it the night before and then pop it in the oven while the coffee is brewing.  I like to make a lighter version on "normal" occasions…I will share the tweeked recipe soon!
French Toast:
1 large loaf Day old french bread
1 teaspoon pure vanilla extract
Cream Cheese Drizzle:
8 oz Cream Cheese softened
4 Tablespoons Butter softened
Spray a 8×8 baking dish with cooking spray.  Tear one inch pieces of bread into the dish.  Sprinkle raisins evenly over the dry bread.  In a medium bowl, wisk eggs and milk.  Add brown sugar, vanilla, salt and cinnamon and mix well.  Pour egg mixture over the bread and gently mix until all of the bread is soaked.  Cover with foil and refridgerate over night.  When ready to serve, preheat the oven to 350 degrees and bake for 40 minutes, or until puffy and beautifully golden!
For the icing:  Mix cream cheese and butter until fluffy.  Add powdered sugar and mix well.  Add milk and mix well again!
When the French Toast is finished baking, drizzle with Cream Cheese Drizzle and serve hot!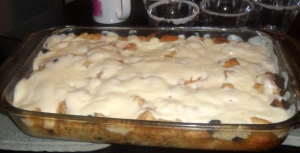 Creamy Cheesy Stone Ground Grits:
Being from the South, I grew up LOVING grits…all grits are good, but Stone Ground Grits are definitely a cut above the rest!  They take a little more time and a little more effort than the trusty Quaker version…but OH MY, they are definitely worth it!
3/4 Cup White Stone Ground Grits
2 Cups Extra Sharp white cheddar cheese
In a large sauce pan, over medium heat, combine water, milk and salt and bring to a boil stirring occasionally.  Stir in grits and cook for about an hour continuing to stir and monitoring the consistency. If the grits get too thick…add more water!  Cook until creamy and delicious…then add the butter and cheese and stir until incorporated.  Serve and enjoy!
**I use this same recipe for shrimp and grits…but I throw a fresh jalapeno (cut in half) in the water/milk mixture while cooking…then I take it out rightbefore serving…it adds a nice kick!
Pamento Cheese and Sausage Omlet
2 Tablespoons Pamento Cheese
1/2 Cup Smoked Breakfast Sausage
Finely chopped green onion
In a small skillet brown the sausage (you want it to be crumbly little pieces). When sausage is cooked, place it on a plate with a paper towel on it to drain the excess grease.
In a small bowl wisk three eggs, milk, salt and pepper until light and fluffy.  Spray a small non-stick skillet with cooking spray and place over medium heat…add eggs and cover.  Cook until the eggs start to firm and then dribble one teaspoon of water into the side of the pan and cover immediately.  Let the eggs cook until almost completely solid and then spread pamento cheese and sprinkle sausage on one side.  Turn the eggs out onto a plate and gently fold.  Garnish with green onion.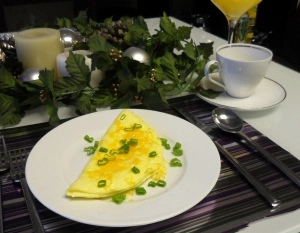 Caramelized Grapefruit
This might be one of the easiest recipes on earth, but they are a simple and very yummy treat in the winter.  They warm caramelized grapefruit is the perfect compliment to breakfast, or a healthy, yummy late-night dessert!
Preheat oven to broil.  Cut grapefruit in half and then cut around the perimeter and in between each section, then place in an oven safe pan.  Spoon 1/8 cup brown sugar on each grapefruit and spread evenly with the back of a spoon.  Sprinkle with salt and broil on HI until grapefruit is golden brown and bubbly.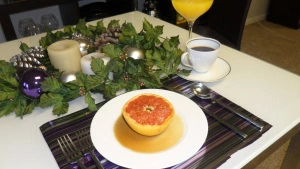 Posted on
December 27, 2010
by
LindsayTarquinio
· 0 comments
Read More
I believe that a really good meal, a fresh batch of cookies, or a big cup of vanilla chai can bring people together in a way that not much else can.  It can say, "I love you" or "I hope you feel better soon," or "I care about you"…it can make someone's day.
I'm not a blogger…and honestly, it scares me a little bit!  I don't know that I have anything very profound to say…but I do know that I love to cook…and I love to find ways to make really yummy but really healthy and nutrient rich food.  I love the idea of sharing recipes and therefore sharing culture and traditions…so, even though it makes me a little nervous, I decided to start a blog and take it as a personal challenge to actually write down my recipes, and share them!
December 27, 2010
by
LindsayTarquinio
· 0 comments
Read More