A friend of mine has a stellar cookie business in Australia. Â She makes this nutty, crunchy, chewy almond cookies that you really crave when its gone. Â Inspired by her yummy creation, I started playing around with similar ingredients and came up with these little bite sized treats.
Posted on
October 9, 2013
by
LindsayTarquinio
· 0 comments
Read More
Gavin and I decided to start the year off with a challenge- a cleanse of sorts. We have cut all animal products and sugars out of our diet for 3 weeks- and it has been pretty eye opening! We quickly discovered that our bodies were totally addicted to sugar (the pounding headaches were the give away) and I realized how much I depend on animal protein to make a meal.
I was so excited going into this little adventure. The idea of having to be create meals that Gavin and I both love with absolutely no animal products seemed like a fun challenge- and it has been! Never did I think that my meat loving husband would be so excited about a veggie and tofu scramble or a bowl of slow cooked black beans and rice…but he has been loving it! And I have been loving the wonderful world of vegan cooking blogs.
We are both finding this no-meat way of living to be easier and more enjoyable than expected…but the no added sugar part has left me craving chocolate like a crazy person- so I pulled up two of my favorite vegan blogs and started looking for sweet treats that I could tweak and re-work to fit our dietary perameters.
I made a great adaptation of a recipe from Oh She Glows and another from Chocolate Covered Katie. Maybe its the fact that I haven't had sugar in a while- but I loved both of the concoctions that were inspired by these two lovely vegan ladies.
Frozen Truffle Bites:
Adapted from these Frosty No-Bake GloCakes
1 large banana, mashed
2 T date butter, recipe below *If you are not concerned about added sugar you can sub this for 1T agave or honey
1 T creamy peanut butter
1 t unsweetened coco powder
1/4 t sea salt
1/2 C quick cook oats
1/2 C puffed brown rice, I use Arrowhead Mills
1/8 C shredded coconut
In a medium bowl combine the mashed banana, date butter, peanut butter, coco powder and salt. Mix until almost smooth. Now, add the oats, puffed rice and coconut. Fold together until everything is covered in the banana mixture. Now, cover a cookie sheet in aluminum foil. Make 1 inch (truffle sized) balls of the mixture. Cover the cookie sheet with foil or plastic wrap and place in the freezer to set for about an hour. Once the truffles have set, store them in a zip lock baggie in your freezer.
These little truffle bites turned out amazing! The perfect sweet treat with no added sugar! Of course, if you don't want to make date butter you can definitely sub it for agave or even honey.
Date Butter:
1 C pitted dates
1 1/2 C water
In a small pot over medium heat, combine the water and dates. Bring to a low boil and then reduce the heat to simmer. Allow to simmer for 20 minutes. Now, pour the dates and water into a blender and blend until smooth.
Since my frozen truffle bites turned out so yummy, I decided to make another sweet vegan treat courtesy of Chocolate Covered Katie. I found this recipe for Oatmeal Raisin Breakfast Cookies on her blog…and since they meet our new requirements- I decided to whip up my own version! They have turned out to be the perfect mid-day snack for times when our sweet tooth starts flaring up :) They are more of the consistency of baked oatmeal…so they feel hearty and nutritious at the same time.
Baked Oatmeal- Raisin Cookies
adapted from this recipe for Oatmeal Raisin Breakfast Cookies
1 C quick cook oats
1 C unsweetened apple sauce
2 T peanut butter
2 T date butter
1 t cinnamon
1/2 t salt
1/2 t vanilla extract
1/4 C raisins

Preheat the oven to 350 degrees. In a large owl, combine the apple sauce, peanut butter, date butter, cinnamon, salt and vanilla. Mix well. Now, gently stir in the oats until moist. Next, fold in the raisins. Place the dough in tablespoon sized dollops on a cooking spray coated baking sheet. Bake for 15 minutes.

Posted on
January 27, 2012
by
LindsayTarquinio
· 0 comments
Read More
It feels like just yesterday I was ringing in the New Year with Gavin, my brother and Katie…and here we are about to do it all over again! This year was FULL of wonderful adventures, great times with friends and family, lots of travel and tons of yummy food! So, in honor of this lovely year ending (and to stick with the theme of every stinkin' TV show, website and blog) here are my favorite recipes from 2011.
Baked Eggs in Ham Cups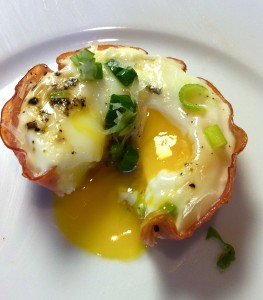 Braised Brussel Sprouts

Family Recipe Tomato Sauce

Toasted Zucchini Israeli CousCous

Peanut Butter Banana Bread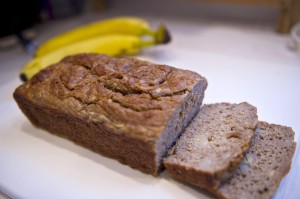 Chili Verde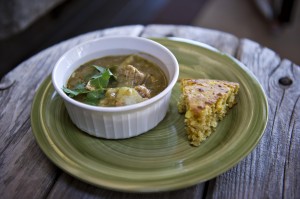 Butternut Squash Soup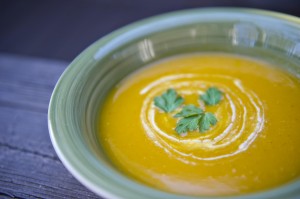 Lemony Blueberry Muffins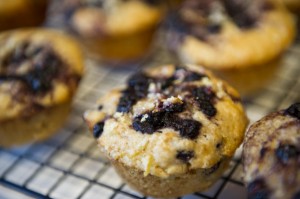 Oatmeal Carrot Cupcakes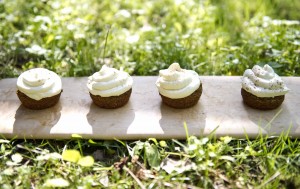 Pineapple Upside Down Pancakes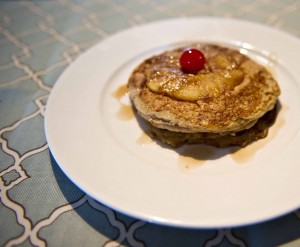 "Fried" Green Tomatoes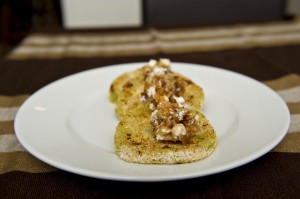 Carrot Ginger Dressing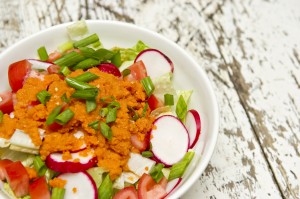 Pumpkin Apple Stew

Pumpkin Chocolate Chip Muffins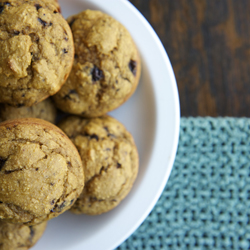 Pablano Corn Chowder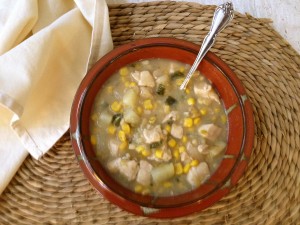 Pumpkin Cheesecake Torte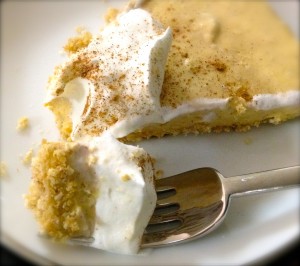 Baked Apple Cider Donuts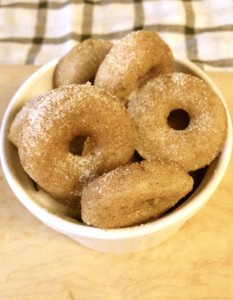 Fancified Deviled Eggs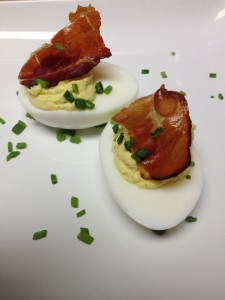 Posted on
December 30, 2011
by
LindsayTarquinio
· 0 comments
Read More

This is the last of the muffin recipes for a little while, I promise! Next week will be full of fun, easy week night dinners and yummy, healthy smoothie ideas (I GOT A VITAMIX FOR CHRISTMAS AND I AM OVERLY EXCITED ABOUT IT!!). I promise, I will resist the urge to post only drinkable meals…there will be solid foods next week…but also some great Vitamix creations.
But, lets focus on the muffins for just a second- these muffins deserve our undivided attention- they are a staple in my house and such a yummy treat, I think they will be a staple in your house too! They are perfect for company- perfect for taking to work- and perfect for just about any occasion because they are moist, perfectly apple-y, decadent tasting AND best of all- healthy, full of whole grains and protein and enough apple to be sure to keep the doctor away!
Apple Crumble Muffins
1 medium apple, cut into small cubes
1/4 C water
1 C whole wheat flour
1 C oat flour (whole oats ground in the blender)
1/2 T baking powder
1 t baking soda
1/2 t salt
1 t cinnamon
1/3 C + 2 T brown sugar
1 egg and 1 egg white
1/2 C 0% plain greek yogurt
1/3 C unsweetened almond milk (or any other milk you would like)
Crumble Topping
1/4 C whole wheat flour
1/4 C whole oats
1/8 C brown sugar
1/2 t salt
2 T smart balance light +omegas, cold
Preheat the oven to 350 degrees. In a small pan over medium heat cook apples, 2 T brown sugar and 1/4 C water until slightly translucent.

In a large bowl combine the flours, baking soda, baking powder, salt and cinnamon.

In a separate bowl combine the sugar, eggs, greek yogurt and almond milk. Gently mix the wet ingredients into the dry ingredients. Now, fold in the apples.

In another bowl, make the crumble topping. Combine the flour, oats, sugar and salt. Now, pinch in the cold smart balance until a crumble forms.

Fill a cooking spray coated muffin tin 3/4 full with the apple mixture. Now, sprinkle even amounts of crumble topping on each muffin.

Bake for 15-18 minutes- until the crumble is golden.

Posted on
December 27, 2011
by
LindsayTarquinio
· 1 comment
Read More