The first time I made these muffins, I was in the Hamptons staying with a good friend, her mom and her sweet baby boy.  Her home has an INCREDIBLE kitchen that has a magnetic pull…if I am in the house, I WANT to be in that kitchen using the incredible Viking stove…chopping and dicing on what seems like endless amount of counter space- surrounded by floor to ceiling windows looking out onto a lush green yard.  Yes- it is my kind of kitchen!
Posted on
September 18, 2013
by
LindsayTarquinio
· 2 comments
Read More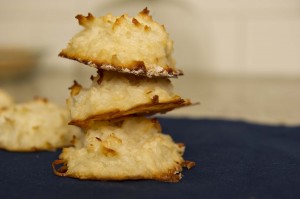 Growing up, coconut sweets were the greatest treat. My dad and I would race to find the coconut filled chocolate truffles in the box of chocolates…and macaroons have always been a very special indulgence. I don't know why I have never ventured into the macaroon making business…I think that they intimidated me. The light, fluffy beauty that is the macaroon seemed so difficult to duplicate…but last week, I faced my fears and went for it! I am glad that I did…they are beyond easy to make, and with a few simple substitutions- they are a wonderful (not so) guilty pleasure!
2 Cups sweetened, shredded coconut
1 14 oz can fat free sweetened condensed milk
1 t vanilla extract
3 large egg whites, ROOM TEMPERATURE
1/4 t sea salt
Preheat the oven to 325 degrees. Combine the coconut, condensed milk, vanilla and salt in a large bowl.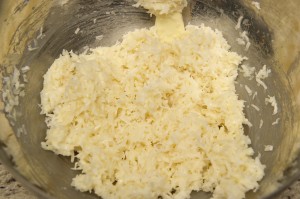 In a separate bowl, using an electric mixer, whip the egg whites until they form stiff peaks.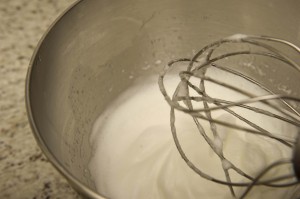 Now, gently fold the egg whites into the coconut mixture.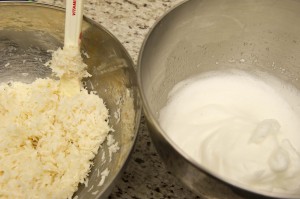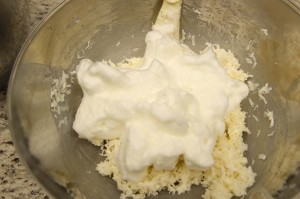 Drop tablespoon fulls of the batter onto a baking sheet.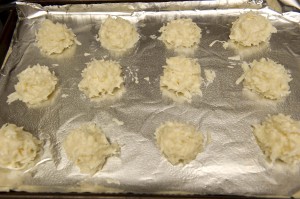 Bake for 30 minutes- until they are golden brown. Cool completely and store in an air-tight container.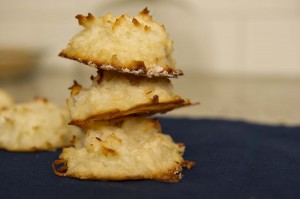 Posted on
July 28, 2012
by
LindsayTarquinio
· 0 comments
Read More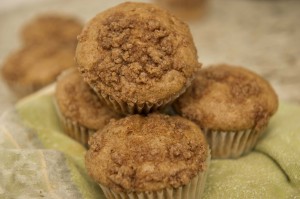 Cinnamon Crumb Cake Muffins
1 1/2 C all-purpose flour
2 1/2 t baking powder
1/2 t sea salt
1 t cinnamon
1/4 C brown sugar
1/4 C white sugar
1 egg
1/3 C 0% plain Greek yogurt
1/2 C almond milk (you can use regular milk or coconut milk as well)
1 t vanilla extract
Crumb Topping
1/8 C white sugar
1/4 C brown sugar
1/4 C white flour
1/4 t sea salt
1 t cinnamon
4 T cold butter
Preheat the oven to 425 degrees. In a medium bowl combine the flour, baking powder, salt and cinnamon. In a larger bowl, mix together the sugars, egg, greek yogurt, almond milk and vanilla extract.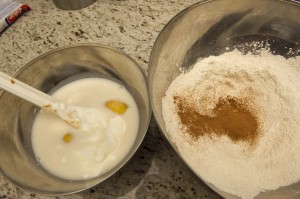 Slowly pour the dry ingredients into the wet ingredients and mix well.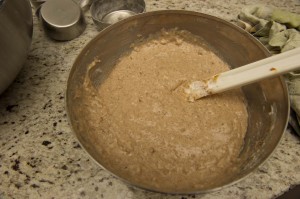 Fill a lined muffin tin with the batter.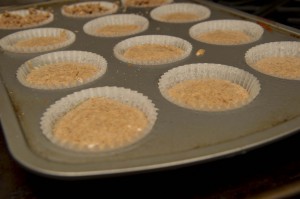 Make the crumb topping by combining all ingredients and pinching the mixture together with your fingertips until a crumble forms.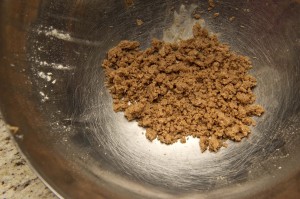 Now, top each muffin with crumb topping.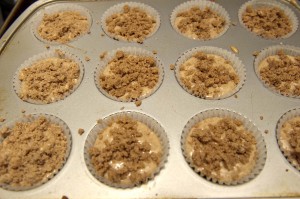 Bake for 18-20 minutes. Cool completely on metal cooling rack. Store in the fridge and reheat for 10 seconds before eating!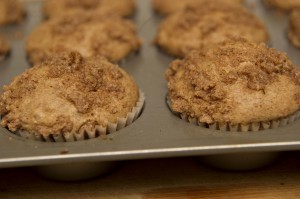 ENJOY!!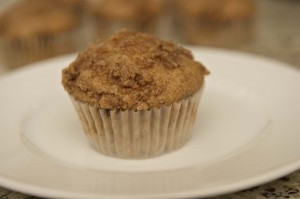 Posted on
June 26, 2012
by
LindsayTarquinio
· 0 comments
Read More

Oatmeal cookies make me think of my Grandpa Howard. Growing up, a trip to Grandma Mary and Grandpa Howard's house meant fresh baked bread, sourdough pancakes, and the BEST oatmeal cookies you have ever had in your life. I remember my mouth starting to water with anticipation whenever we pulled in the driveway. Grandpa Howard is a perfectionist and therefore his cookies are perfect every. single. time. He painstakingly grinds pecans into a fine flour to give the cookies a nutty, decadent taste without the big chunks of pecans…he measures each item with precision and the result is heavenly.

Sticking with my motto of never messing with a perfected family recipe…I went an entirely different direction with these oatmeal cookies…I cut the butter, changed the sugar, left out the dairy…and removed the flour-but I added in some fun things as well.

I made these cookies for a friend the other day…but saved a few for Gavin and I to munch on…and I have loved having a yummy, healthy treat in the mornings. The buckwheat flour definitely gives these babies a particular taste…but they are moist and delicious. I keep them in the freezer..and eat them frozen. Gavin likes to let the defrost. Either way, they are a tasty, healthy way to satisfy your sweet tooth!
Gluten Free/Dairy Free Loaded Oatmeal Cookies
makes 20 cookies
1 C buckwheat flour
1/2 C shredded coconut
1 teaspoon baking soda
***1/2 t xanthum gum **this is optional, I made them with and without…it just makes them stick together a little better
1 t kosher salt
1 1/2 t ground cinnamon
3 C old fashion oats *make sure they are certified GF
4 T coconut oil
4 T apple sauce
1/2 C brown sugar
1/2 C dehydrated cane juice (you can use white sugar)
2 eggs
1 t vanilla
1/4 C raisins
1/4 C golden raisins
1/4 C dried cranberries
Preheat the oven to 350 degrees. In a medium bowl, combine the flour, coconut, baking soda, salt, *xanthum gum, salt and oats. In a large bowl, mix together the coconut oil, apple sauce, brown sugar, cane juice, eggs and vanilla.
Combine the wet and dry ingredients. Mix in the raisins and cranberries.
On a lined baking sheet, drop tablespoonfuls of the batter about 1 inch apart. (I gently pressed each cookie a little before baking).
Bake for 10 minutes. Allow to cool completely on a cooling rack. Store in the refrigerator.
Posted on
June 18, 2012
by
LindsayTarquinio
· 0 comments
Read More