Air travel is so crazy! One minute, you are sitting at the beach in the blazing summer sun and the next minute, you are bundled up in a sweater in the winter cold. Our trip FLEW by in a flash. We have been home for a few days now and I still can't believe that our two weeks in J'Bay are already over!
Though our trip was short- it was wonderful and really made me miss our South African family so much more. Since the trip was so quick, I decided that the best was to put it into words is through pictures…(I know that doesn't make a lot of sense, but I don't really know how to recap our trip verbally!)
When we fly to J'Bay, we arrive late at night…I woke up the next morning to my phone ringing. It was Ria saying hello and asking me to take this ADORABLE little guy to the clinic. He had some kind of viral infection causing sores in his mouth and he was not a happy camper! I drove over the Ithemba, picked him up and we headed for the clinic. He was SO brave that I took him for a very special treat to McDonalds! I think he really enjoyed his ice cream :)
Gavin and I have a tradition of eating breakfast at InFood first thing in the morning after we arrive. Not just because we love the food, but because InFood feels like home- and some of our closest friends are there. Most everything that they serve is amazing…but this "Englishman Omelet" is one of our favorites. It is stuffed with caramelized onion, roasted mushrooms, fresh tomato, and "back bacon" which is essentially Canadian bacon. An omelet and a PERFECT InFood cappuccino is my favorite way to start the trip.
This isn't just any cappuccino. It won "best in the Eastern Cape" and it won my heart. It is BY FAR the best coffee drink I have ever had. They take such pride in their coffees and they train hard to produce these beauties!
One of our highlights was dinner with our friends Tertius and Marnie. I already knew that Tertius was a pancake master but I didn't know that his wife was an exquisite cook as well. When they invited us for dinner, they decided to bless us with a real, cultural experience! Marnie made a very traditional South African dish called Bobotie. It is a beef and curry dish topped with an egg custard and served with coconut and chutney. YUM! We hung out on their beautiful balcony and then enjoyed a lovely dinner. How insane is that view!?
As great as it is to see all of our friends- the purpose and the highlight of our trip is definitely our time at Ithemba with the children. These kids light up the day. When you walk in, they RUN, chanting your name and nearly nocking you over with the force of their hugs! They are growing SO fast and changing so quickly! It is SUCH a blessing to get to watch them grow :)
Many of our afternoons were spent on the porch at InFood. Viki (pictured below) is one of our close friends in J'Bay and also a waitress at InFood. We spend hours on Saturdays drinking coffee and hanging out with her and our other friends.
Each time that we are in J'Bay, I like to share an "American" recipe with the people at InFood. Usually we do a big dinner, but this time, our trip was so busy and so short, I just decided to make a few fun dishes and bring them in for the entire staff to try. I started with coconut cookie stuffed chocolate fudge, then made this banana cream pie (it was a huge hit) and finished with traditional chocolate chip cookies (surprisingly enough, there is nothing like this is SA).
As you know, we spend lots of time with Sally and Hattingh when we are in J'Bay. Celebrating Hattingh's birthday and spending a day on the farm were awesome…but just good old fashion hang out time is so great as well. We had lots of yummy meals with these guys…

We had many many amazing meals and great coffee dates with Ria (she HATES having her picture taken, so all I can include is a few pictures of the dinners we made together)!!
All in all, the trip was a fantastic whirl wind. I miss it so much and I can't wait to get back "home" later this year!
Posted on
February 28, 2012
by
LindsayTarquinio
· 0 comments
Read More
Farm to Table-Ahh, the words alone make my mouth water! If you have ever had the opportunity to pick your own vegetables, straight out of the ground and then immediately prepare and eat them- you know what I am talking about. If you have ever trotted into the back yard to retrieve eggs that have just been laid to make your breakfast, you know how much better they really do taste. So, when Sally and Hautingh asked Gavin and I if we would like to spend Saturday at her families dairy farm, right outside of J'Bay, we eagerly agreed! We love any time that we get to spend with Sally and Hautingh- they have become some of our closest friends…and they are always up for an adventure!

Sally and I thought it would be nice to start our Saturday with a lazy picnic by the ocean. We decided on a lunch of fresh baked bread (that I picked up from InFood on our way out of town), a variety of cheeses, jams and honey, a few types of meat, some salad and fresh fruit. We piled in the car and headed for Oyster Bay, the small town where the farm is located. About 80% of our drive was on very bumpy dirt roads…its crazy how quickly you can be "in the middle of nowhere" when you leave J'Bay! We drove for about an hour and then the road became paved again and lead us to a beautiful spot overlooking the ocean.


The ocean in J'Bay is breathtaking- but being in Oyster Bay in such undisturbed beauty, it was utter perfection. The day was warm and sunny- and the rocky landscape was full of unbelievable detail that reflected both God's mighty power and creativity. It was amazing!


We enjoyed our meal and then headed down to the beach to climb the rocks and look out at the ocean…I could have stayed forever- but, we were on a schedule…the schedule of the cows! At 2:00 all 450 cows on the farm make their way toward the milking barn and we needed to be there! We pilled back into the car and headed out for the farm. When we arrived, we saw lines of cows making their way to the barn. These cows know that they are to be milked at 4 AM and 2 PM and they show up at the barn every day at those times.

We started our trek to the milking barn and we were given a tour of all of the entire process on the way. We started with the baby cows. After they are born, they are placed in these little pens for the first 2 months to make sure that they are healthy.

They are very well taken care of and so stinkin' cute! After they are healthy enough to be on their own, they are moved to a very large fenced in area to roam freely and grow into the milk producing beauties that they ware born to be. Once they are grown enough to be milked, they are let out into the larger farm to roam, eat grass and live happily!
It was so amazing to see how a dairy farm SHOULD be. The cows eat grass- they roam free- and they show up, on their own for milking.


We watched in amazement as the cows lined up, and got hooked up the the milking machines. The entire process only takes about 45 minutes- and the cows produce anywhere from 20-35 LITERS of milk 2 times a day. About half way through the milking process, Sally's uncle took a coffee mug, went over to a cow, and came back with a hot cup of FRESH milk!


I was a little nervous to try it- but the process was so natural and clean- that I figured this was the place to try it! I took a deep breath and took a sip. I don't know what I was expecting- but it was so much better than I thought it would be. It was sweet and creamy and rich- Gavin and I both thought it was rather tasty!
From the barn, we headed to the main house to have coffee- but no South African just serves coffee- they go all out when guests come over. Sally's aunt had prepared a milk tart- a very South African dessert…similar to a custard, but poured into a flaky crust and topped with cinnamon. It is usually pretty good tasting- but this milk tart was made with the fresh cream from the farm- and it was BY FAR the best one I have eve had!

Our coffee was also served with farm fresh milk…and the day was suddenly full circle! From baby cow, to milk tart- we got to see (and enjoy) the entire process. From the farm out back, to the table where we ate- the day was perfect!
Posted on
February 22, 2012
by
LindsayTarquinio
· 0 comments
Read More
It might be 80 and sunny here in J'Bay- but in a few days we are headed back home and back into winter, meaning, I will once again start to crave the warm, hearty flavors of comfort food. When I think of comfort food, the first thing that pops into my head is my mom's chicken pot pie. Oh-My-Goodness…it is Unbelievably good! Growing up, I would request chicken pot pie whenever I had the chance and when I walked in the door to the smell of flaky, buttery crust baking in the oven, my heart would flutter just a little :)
I came up with this version of chicken pot pie after my mom requested a healthy version of the decadent dish. I am in NO way going to claim that this version is anything close to the way mamma used to make it but, it is creamy, rich (tasting) and perfectly comforting on a cold winter day!
Chicken-Pot-Pasta
serves 8
1 t olive oil
1/2 C carrots, diced
1/2 C celery, diced
1/2 C onion, diced
2 chicken breast, diced
1 t sea salt
1 t fresh ground pepper
1/4 C flour
1 can chicken stock
1 C milk
1 C frozen green peas
4 C (uncooked) whole wheat rotini, cooked al dente
In a large pan over medium heat, sauté the onion, celery and carrot in the olive oil until slightly tender, about 5 minutes. Now, add the diced chicken breast and cook for about 5 more minutes.

Season the mixture with salt and pepper. Now add the flour. It will be thick and goopy but stir the mixture until the veggies are coated and cook, stirring constantly for 3 minutes. Now, add the can of chicken stock and stir very well until all of the flour has dissolved. Add the milk and bring to a simmer. Allow this to cook for 10 minutes, until the sauce begins to thicken.

Next, stir in the peas and cook until the peas are tender, about 2 minutes.

Pour the sauce over your prepared whole wheat rotini noodles and serve!

Posted on
February 16, 2012
by
LindsayTarquinio
· 0 comments
Read More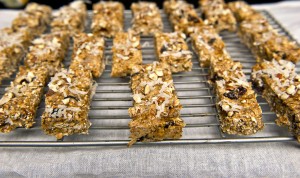 Granola bars are a perfect, quick, high fiber go-to snack…when you make them at home! Your typical granola bar may seem innocent enough- but if you look at the list of ingredients you will likely find canola oil and some form of sugar as the second and third ingredient. To me, this is not ideal and a little frustrating considering granola bars are so carefully marketed as light and healthy!
The other day, I set out to make a satisfying, healthy granola bar for Gavin and I to snack on through out the week. These cinnamon raisin bars turned out to be quite nice…though they do not have the chewy gooey texture of your typical bar- because the oil is replaced with apple sauce, they retain their moisture but they are missing they slightly gooey texture. I still love them and I have enjoyed eating them straight from the fridge or slightly warmed and drizzled with honey.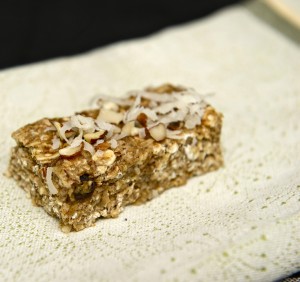 Cinnamon Raisin Granola Bars
1/2 C unsweetened apple sauce
4 T agave nectar/ maple syrup/ molasses
2 egg whites
2 Tbsp ground flaxseed
2 C oats
1 C whole wheat flour
1/2 t baking soda
1/2 t sea salt
2 t cinnamon
1/2 Cup raisins
coconut shavings and almonds for topping (optional)
Preheat the oven to 350 degrees. Spray a glass baking dish with cooking spray. In a small bowl, combine the apple sauce, sweetener of choice, and egg whites. In a larger bowl combine the flax seeds, oats, whole wheat flour, baking soda, sea salt and cinnamon.
Now, pour the dry ingredients into the wet ingredients and gently fold in the raisins. Now, pour mixture into the prepared pan. Bake for 25-30 minutes. Allow to cool for 10 minutes and then cut into desired size. Remove from the pan and place on a cooling rack until completely cool. Store in a air tight container. (I keep mine in the fridge because they last longer)!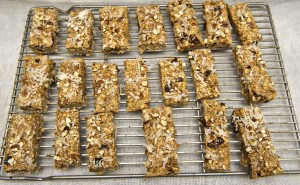 Posted on
February 14, 2012
by
LindsayTarquinio
· 1 comment
Read More