Eggplant is a very controversial veggie around our house. I absolutely LOVE it and Gavin thinks it is terrible! If I ever get to eat eggplant, its because I slice it up, season it, and throw it under the broiler as a side dish to my dinner…it is never the star of the meal around here. BUT, I absolutely love the smokey, earthy flavors of delicious eggplant and I just had to try to sneak it in to a meal and win Gavin's heart for this beautiful purple plant.
The best way to sneak something past a guy that grew up in the South in an Italian household? Bread it, fry it and cover it in marinara and cheese! (Or in my case, create a healthy version of an old favorite!) Baked and stacked eggplant parmesan.
When I set the plate in front of him, he was a little hesitant…but once he cut into the golden, yummy crust and took a bite, I knew he could no longer deny that eggplant CAN taste good! He ate it all…and so did I- I really wish the pictures turned out better…it is a beautiful dish and it would be such a fun and easy entree for a dinner party. Its healthy and yummy and tastes like the old classic!
Baked and Stacked Eggplant Parmesan
4 servings
For the Eggplant:
1 C bread crumbs
1 t dried oregano
1 t sea salt
1 egg
1T water
12 3/4″ thick slices of eggplant
For the Sauce:
15 oz can of petite diced tomatoes
1 T basil
1/8 t ground thyme
1/2 t dried oregano
1 clove garlic, minced
1/2 t sea salt
Topping:
1/2 C grated parmesan cheese
Preheat the oven to 375 degrees. Set out two plates. On one plate, combine the bread crumbs, oregano and sea salt. On the other plate, crack the egg and add the water…whisk gently with a fork.

Now, coat both sides of each piece of eggplant with the egg mixture and then coat each side in the bread crumb mixture. Place the eggplant on a bakers cooling rack and then place them in the oven. Bake for 30-35 minutes- until the eggplant is cooked through and the breadcrumbs and crispy and golden.

While the eggplant is baking, in a medium pot over medium heat, combine all of the sauce ingredients. Bring the sauce mixture to a boil and then reduce heat to low and allow to simmer until the eggplant is cooked.
To assemble the dish, place one slice of eggplant on each plate and top with 1 T sauce. Repeat until it is 3 layers high. Top with grated parmesan cheese. Serve with whole wheat pasta!

Posted on
March 31, 2012
by
LindsayTarquinio
· 0 comments
Read More
Spring has sprung!! This weather is so amazing and Gavin and I are loving spending time outside- going for walks, starting to learn how to do yard work (oh my, it is complicated!) and best of all, eating meals outside on the patio. If you can see past the yellow haze in the air from the 9,000,000 particles of pollen in the air, the weather is PERFECT for dining al fresco!
When I think about Spring time and Spring foods, I think of fabulous crisp vegetables and lovely citrus-y dressing…and after our lovely meal at the Viking Cooking School with our friends Chris and Michelle, I think of panzenela salad.
The version that we made at the school was delicious- though we might as well have eaten a cheese burger because of the amount of butter on the bread and oil in the dressing. So, since I like to think of a salad as a healthy, veggie filled alternative to a cheese burger- I set out to make a lighter version of this delicious salad.
Panzenela Salad
6 servings
3 C day old whole wheat bread, cut into 1 " chunks
olive oil cooking pray
2 cloves minced garlic
1/2 t sea salt
2 C red bell pepper, cut into 1″ pieces
2 C English cucumber, sliced and cut into quarters
1 C tomato, seeded and cut into 1″ pieces
1/2 C green onion, chopped
2 lemons, juiced
1/2 t sea salt
1 T olive oil
1 t fresh basil, chopped
1 t fresh mint, chopped
*crumbled feta, optional
*avocado, optional
Preheat the oven to 350 degrees. Spray a cookie sheet with olive oil spray. Place bread pieces on the cookie sheet and spray the top with olive oil. Toss in the garlic and salt and place in the oven to toast for about 15 minutes.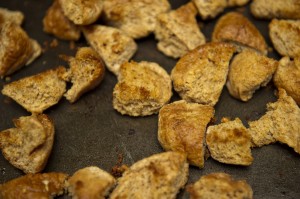 In a medium bowl, combine all of the other ingredients and toss together. To serve, place a 1/2 C of bread on each plate and then top with 1 C of the vegetable mixture.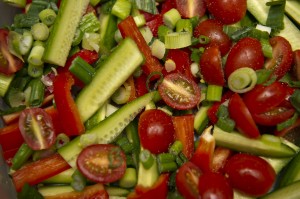 Top salad with crumbled feta and avocado, if desired.

Posted on
March 26, 2012
by
LindsayTarquinio
· 0 comments
Read More
This time of year, citrus is at its best…juicy, delicious, full of vitamin C and perfect for many wonderful dishes, sweet and savory! I love adding a splash of fresh citrus to almost any dish…but it is more beautiful and more delicious when the white pithy skin is removed and the lovely juiciness shines through! Sectioning citrus takes it from looking ordinary to extraordinary and it is so easy to do…
First, cut both ends off and then gently cut off the peel, from top to bottom making your way around the citrus…all the way down to the flesh.


Now, make slices between each section and remove each slice with your knife.
Its that simple! And that beautiful.
March 22, 2012
by
LindsayTarquinio
· 0 comments
Read More
This soup is great any time of year. The hearty lentils help it to feel warm and comforting in the fall and winter…the beautiful orange color and light flavors make it a lovely spring and summer dish. There is no need for meat- no need for sides- this soup provides all of the protein, veggies and carbs you will need to fuel your body- in a very tasty way!
Mediterranean Lentil Soup
4 servings
onion 1 C, chopped
carrot 1/2 C, chopped
celery 1/2 C, chopped
garlic 3 cloves, minced
ginger 1 inch, minced
1 T tomato paste
1 t salt
1 t curry
1/2 t tumeric
1/2 t cumin
1 C red lentils
2 C water
1 C chicken stock
In a large pot over medium heat, combine the onion, celery and onion and sauté for five minutes. Now, add the garlic and ginger and cook for another 5 minutes.
Stir in the tomato paste, salt, curry, turmeric and cumin.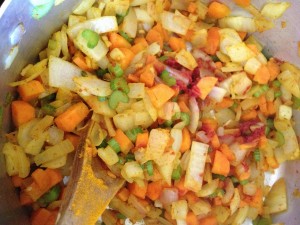 Add the lentils, water and chicken stock and bring to a boil. Reduce heat to low and cook for 20 minutes.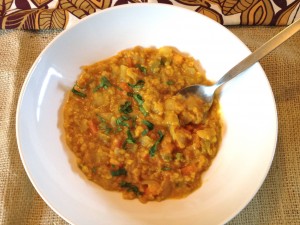 Posted on
March 20, 2012
by
LindsayTarquinio
· 0 comments
Read More