Last time we were in DC, we heard rumors that you can take a bus straight from Union Station in DC to Penn Station in NYC for $1…what!? After Q was over, our dear friends that live in New York offered to let us take a mini vacation at their home in the city. How could we turn that down? After our DC adventures we made reservations on the Bold Bus (we didn't get the $1 tickets, there are only a few per bus…but ours were incredibly affordable) and headed for the Big Apple! It was only about a 4 hour drive- but it felt like forever because we were trying to make a dinner party that evening and our bus essentially arrived when the party started!
Sometimes I think our lives are like a bad romantic comedy…we literally BOLTED off of the bus (with our two MASSIVE suitcases) hobbled down the 1,000,000 stairs to the subway, bought our metro cards, got stuck in the turn stall with our bags, ran as fast as we could to the train- and arrived as the train doors were sliding shut! So, we caught our breath and waited for the next train. When we arrived at our stop- another hilarious episode of bag dragging, getting stuck and running through the crowded streets ensued. We ran in the door of the town house, threw open our bags and changed in about 2.5 seconds. Ran back out the door, grabbed another train and FINALLY made it to dinner as the plates were being served! Whew!
I am SO glad we made it to dinner…it was such an incredible meal! A new friend of mine, Jack (who I met in LA last month) just moved into the city and was having a meal to celebrate passover with a bunch of friends.

He must have been cooking for 34 days because the spread that he put out in his 350 square foot apartment was IMPRESSIVE and SO delicious! We had tilapia crusted in herbs and pine nuts, poached salmon, home made chick pea burgers, mini spinach quiche, matzah pizza, amazing roasted veggies, a fabulous salad, an incredible spaghetti squash topped with a rich red sauce, stuffed grape leaves, and many more delicious dishes. Wine was flowing, conversation was wonderful, and we made lots of fabulous new friends.

A perfect dinner was topped off with a huge array of desserts from chocolate and mint covered matzah (oh.my.yum) to gluten free apple pie- we left very full and very happy!
Day 2 started early (even though we went to sleep super late- our excitement for a fun day in the city had us up at the crack of dawn)! Without hesitation, we hopped out of bed, got dressed and headed straight to our favorite bagel shop, Murray's! I know I have told you before, but this place makes us happy- the bagels are fresh and delicious- perfectly chewy and topped with cream cheese. They have a huge variety of home made flavored cream cheeses…it makes it very hard to choose…but we went with a cinnamon raisin bagel topped with maple walnut cream cheese and two cups of super yummy coffee! The perfect start to the day.
From Murray's we headed south to our new favorite part of town along the surprisingly peaceful Hudson River. We spent the morning walking around, sitting by the water, chatting and dreaming. When our tummies started to rumble, we headed to a little shop on the outskirts of SOHO, basically in Chinatown, called Xi'an. I have heard A LOT about this tiny little shop. They are famous for a dish called cumin lamb noodles…so, you know, we had to try it! The shop is itty bitty and manned by one person. Their menu is very small, but everything looked delicious. I ordered the tiger vegetable salad and the home made spicy tofu (I am a huge fan of tofu and I have never gotten to taste it home made before) and Gavin got the cumin lamb noodles.

All of our dishes were EXCELLENT. Far beyond expectation (and our expectations were HIGH). The noodles were freshly made, the lamb, perfectly tender and seasoned, and my tofu was so, so great! The tiger veggie salad was fresh and remarkably delicious. We WILL be back!
After lunch, we continued our walking around the city…we figured out later that we walked about 13 miles on this particular day….and then headed back home to get ready for a super fun evening! We were invited to our friend Rusty's 50th birthday party in Connecticut. We boarded the train and headed out for what turned out to be a wonderful evening.

We were so spoiled with amazing food and again, the company of wonderful new friends. Rusty's friends welcomed us with open arms- and an incredible spread of food. We started with appetizers (shrimp, smoked salmon, crab cakes, artichoke spread, flax seed crackers, spinach dip) and then moved on to the main event (yogurt marinated lamb, kale salad, cabbage salad and baked zitti. Dessert was not one, but four birthday cakes…it was quite an awesome dinner.



Though we got home super late- we were up early again with one thing on our minds- cookies from Levain. Levain's in located directly across Central Park…about a mile and a half walk. The morning was lovely and our walk was peaceful. Levain did not disappoint. We ordered our usual double chocolate cookie and then went for something new- the chocolate chip banana pound cake. It was heavenly. Every single bite was heavenly!


From Levain- we continued our walking- and went to Trader Joe's and Whole Foods to stock up on groceries. I decided to make a few meals for our wonderful hosts to have after we left. I spent the rest of the afternoon cooking- and loving every minute of it!
If Gavin and I have a "spot" in New York, I think it would have to be Vanessa's Dumplings. We found this little gem of a place about 2 years ago when we were wondering through Soho and crossing into Chinatown. This place is AMAZING- and unbelievably cheap…all of the food is made from scratch- absolutely wonderful- and between $1 and $4 per dish. We ordered way too many things and sat down for a feast!


Vanessa's was a perfect way to end the day!

The next morning, we packed our bags and headed out for the bus back to DC…and then the train to the airport…and then the airport to MARTA…and then MARTA to our car…and then back home! By the time we arrived in Atlanta- we slept very well :)
Posted on
April 24, 2012
by
LindsayTarquinio
· 0 comments
Read More
I will interrupt my travel tales to share a quick recipe with you- because I'm really excited about this one! When Spring is in the air, I absolutely love packing a simple little picnic, driving over to Piedmont Park, and having and outdoor dinner followed by a long walk around the park. Picnics and Springtime are one lovely combination…and the easiest way to create a lovely picnic is to have a sandwich be the star of the show.

I'm not talking about a boring turkey on white here- I'm talking about a delicious flavor explosion served with toasted cranberry walnut bread (or whatever bread/ lettuce wrap is your favorite)- it is the perfect, quick and easy picnic entree or grab and go lunch.

This chicken salad is mayo-free and therefore MUCH healthier than any store bought/restaurant purchased alternative….I promise, you won't miss the added fat at all…its creamy and delicious and full of light Spring time flavors! I like to make a big batch at the beginning of the week and have it as a quick healthy snack or lunch that's ready to go in the fridge.
Spring Chicken Salad
2 lb chicken breast
1 t garlic powder
1 t sea salt
1/2 C celery, chopped
1/4 C sweet onion, chopped
1/2 C apple, chopped
1/2 C green grapes, quartered
1/4 C walnuts, chopped
1/2 C 0% plain greek yogurt
2 T dijon mustard
2 T 1/3 less fat cream cheese, softened
1/2 t sea salt
1 t fresh cracked black pepper
1/4 C green onion, chopped
Preheat the oven to 375 degrees. Place your chicken in a glass baking dish (the kind with sides) and sprinkle the breasts with salt and garlic powder. Drizzle about 2 T of water in the dish and cover with aluminum foil. Bake for about 25 minutes- until chicken is cooked through.
When the chicken is cooked, remove it from the oven and allow it to cool. While it is cooling, chop the other ingredients. When the chicken is cool, chop it into small pieces.
In a large bowl, combine the chicken, celery, onion, apple, green grapes, and walnuts.
In a separate bowl, combine the greek yogurt, dijon mustard, cream cheese, sea salt and black pepper. Whisk until smooth and then stir the mixture into the chicken.
Top it with green onion and stir to combine.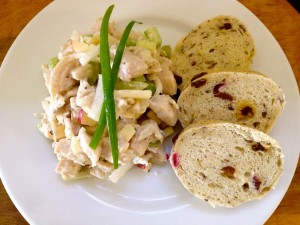 Now, all you have to do is dust off your picnic basket, choose your favorite bread and head the the park! If you're looking for a few other treats to complete your picnic- here are a few ideas:
Appetizer: Fancified Deviled Eggs
Side: Field greens tossed with Seasoned Rice Vinaigrette
Dessert: Cashew muffins with Coconut Crumble
Posted on
April 23, 2012
by
LindsayTarquinio
· 0 comments
Read More

Our last morning in DC was beautiful and sunny, so we headed out for a walk- fueled by the promise of amazing coffee at the end of it. Gavin and I both have a deep love for coffee…and when you go to DC and ask around about THE BEST coffee- everyone will tell you the same thing- "go to Peregrine." So, you know, this was a "must do" for us!
We both ordered the cappuccino and sat outside to enjoy it. They use Counter Culture Coffee which made me really excited (more on this later)- and their cappuccino was great! A perfect way to start the day.



The last day of Q was really wonderful. Though we enjoyed every minute of it- we were ready for a few days to process everything that we heard throughout the week. After the first session, we headed to another much buzzed about lunch spot called Teaism. It was another 2 mile walk away and we were excited to see more of DC.

The reviews of Teasim were all pretty great…and everyone recommended that we try one thing: the salty oat cookie. I love anything with a sweet and salty combo- so that was the first thing that we ordered. It was a nice treat (though definitely nothing compared to Levain's bakery in Nyc).

The rest of our meal, the "real food" was just ok. I really enjoyed my bento box, though I thought it was extremely over priced…but Gavin absolutely hated his burger (and he loves burgers!) It was super dry and flavorless.


So, after a sub-par lunch, we headed back for the last bit of the conference. The last session left us both feeling renewed and excited for the rest of our week (in NYC)!
After the conference, we walked back to our lovely hotel for happy hour…and it was a very happy and yummy hour, indeed! In the Tai Pan lounge, the hotel offers a gorgeous display of small plate dishes and a few selection of wine every afternoon. We decided to stop by the lounge before heading to meet some friends. As with everything else that we experienced at The Mandarin, happy hour was amazing.




I don't know if its the overall abidance of the hotel, or the care that they seem to put into every dish- but this happy hour was just lovely, and a great time for Gavin and I to relax and chat after a busy week. Everything looked wonderful- so naturally, we basically got one of everything to sample. The star of this show was hands down the rice pudding. Anytime a dish inspires me to try to recreate it- I know that it was both unique and delicious. Rice pudding and I are good friends- I have loved it since I was a little girl. It is comforting and creamy…and usually packed with cinnamon and a dash of nutmeg. This was so different- but equally creamy and comforting. It was made with heavy cream, a little coconut milk and scented with lime zest instead of cinnamon. Oh my goodness, I will absolutely crave this dish until I try to make it again!
We had a lot of tasty adventures in DC- and then boarded the Bolt Bus for NYC…and even more tasty treats and great memories :)
Posted on
April 20, 2012
by
LindsayTarquinio
· 0 comments
Read More
The culinary highlight of our DC trip was definitely dinner at Sou'Wester on our first night in DC (what a great way to kick off our time in the city)! We were invited to dinner at the wonderful restaurant located in our hotel. They focus on seasonal ingredients and many of their dishes highlight local specialties, like oysters and crab (YUM!) so I had high expectations for our dinner.
Posted on
April 19, 2012
by
LindsayTarquinio
· 0 comments
Read More