A few months ago, Gavin and I got to visit one of our favorite places in the country.  Northern California.  There is something about it that just brings such joy!  Maybe its the INCREDIBLE produce or the sweet small towns and local vibes- every time I go, it leaves me wanting more!  While on our trip this time, we planned to spend a few nights in the Napa Valley area.  While we have spent time there before, we wanted to see and do a few new things- and I knew exactly who to go to for travel advice.
Brittany and Matt Traina are dear friends of ours.  They live a few blocks from us, love yummy food, love good wine and LOVE to travel.  We hit it off instantly.  When they travel, they travel well- mostly due to Brittany's amazing planning and organizing skills and all around fabulous taste.   Her gifts are too good to not be shared- so, I asked Brittany to write a city guide for Napa Valley to share with you all.
First, here are her and her sweet husband Matt…gorgeous people- inside and out!
And now, her perfect guide for where to stay, what to do and where to eat while you're in wine country.
_____________________
As the crisp fall air hits New York, I can't help but dream of Napa Valley- one of my favorite places on earth.  Napa seems to combine my favorite activities – long dinners over incredibly fresh organic food, lots of vino, in a rustic, country-chic atmosphere.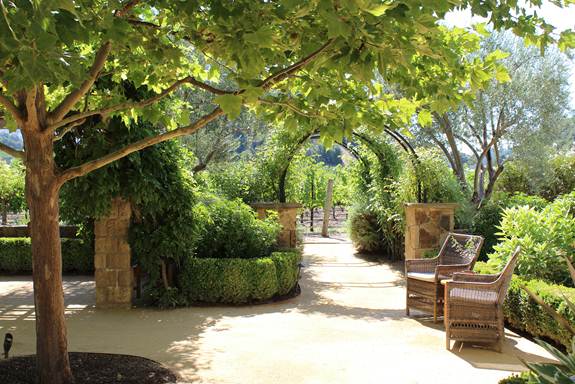 Stay
My husband and I like to stay in Yountville.  We find the location is central, convenient, and there are a lot of great restaurant options nearby (which is key since you won't want to be doing a lot of driving!).  The Bardessono Hotel is trendy and hip with a great pool scene and the North Block Hotel is quaint, quiet, and charming.
If we were going to Napa to celebrate a special occasion, I would die to stay at the Poetry Inn, which is small boutique hotel with only a handful of rooms, all with fireplaces, perched on a hillside right outside Yountville overlooking one of my favorite wineries (Cliff Lede), and has beautiful views of Napa Valley.  And the room comes with your own, personal butler!
Eat
For a light breakfast, head to Bouchon Bakery to grab a coffee and croissant before heading to your first wine tasting.  Their pastries are out-of-this-world and they have a great little patio where you can sit outside and enjoy your morning coffee!
 Cindy's Back-Street Kitchen is a Napa Valley staple.  The atmosphere is casual and the food is so, so good.  It's the perfect lunch spot or for dinner after a day of wine tasting and not wanting to dress up.
Oakville Grocery is a country store with a mini farmers market out front full of local, fresh produce.  It's a great place to grab a sandwich or salad and take it with you for a picnic!
For the perfect dinner, head to Auberge du Soleil's Bistro & Bar, located on their back terrace overlooking the valley.  The views are gorgeous and it is more laid-back than their formal dining room. The food is delicious and fresh.
We also love Red Wood for Italian food in a chic space with hip music– their wood-fired pizzas are wonderful.  They also serve a great brunch!
And if you can get a reservation at Thomas Keller's Michelin-rated The French Laundry, I wouldn't pass it up.  It's quite an experience.  Either way, be sure to stop by their lush and perfectly maintained garden, which is located directly across the street from the restaurant.  The fresh produce grown here is used exclusively at their restaurant.  They even have a chicken coup!
Drink
There are so many incredible vineyards in Napa with great wine, but a beautiful setting is equally important for me.  With that said, a few of my favorites are:
Cliff Lede Vineyards - As soon as you step foot onto their property you feel like you're in a Pottery Barn catalogue.  The country, rustic décor and the art they placed throughout the vineyard is intriguing.  Their tour is wonderful – all of the guides are incredibly informed and have a great sense of humor!  Not to mention their wines are heavenly and the tasting includes a perfectly paired selection of seasonal canapés (blows away your typical cheese and crackers).
Frog's Leap is another one of my favorites, not only because their wine is organic and fantastic, but because the grounds and building are so Martha-Stewart beautiful.  There's an expansive porch overlooking their vineyards where they seated us for our wine for the tasting.  I could have sat there all day! 
I hope you have the opportunity to visit Napa sometime soon- you won't be disappointed!
8
Hey, like this post? Why not share it with a friend?
Tweet

Posted on
October 12, 2013
by
LindsayTarquinio
· 0 comments