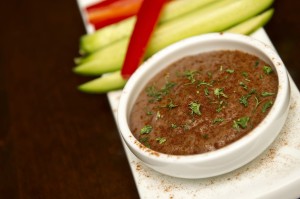 Having a quick healthy snack in the fridge- ready to grab when hunger hits is so important! One of my very favorite, go-to snacks is black bean hummus. Black beans are high in both protein and and dietary fiber (packing 15 grams of each per cup)!! This version of hummus is totally oil free and I would say even creamier and more delicious that any store bought brand! Typical store bought hummus has 80 calories and 7 grams of fat per two tablespoons. This version has 39 calories and 1 gram of fat…while still packing a protein and fiber punch!
I love this hummus with cucumbers, carrots and red peppers…but I also love to top salads and flat bread pizza with this yummy dip.
Black Bean Hummus
39 Calories in 2 Tablespoons
2 cans black beans, drained **PLUS 2 T of juice from can
2 T tahini
1 cloves garlic
1/2 t sea salt
1/2 lemon, juiced
1/2 t ground cumin
Place all ingredients into a blender. Blend until smooth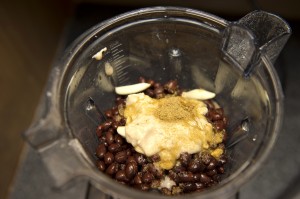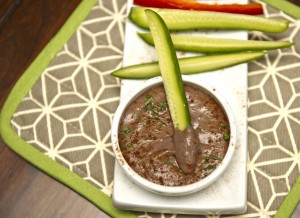 Posted on
March 13, 2012
by
LindsayTarquinio
· 0 comments
Read More
It feels like just yesterday I was ringing in the New Year with Gavin, my brother and Katie…and here we are about to do it all over again! This year was FULL of wonderful adventures, great times with friends and family, lots of travel and tons of yummy food! So, in honor of this lovely year ending (and to stick with the theme of every stinkin' TV show, website and blog) here are my favorite recipes from 2011.
Baked Eggs in Ham Cups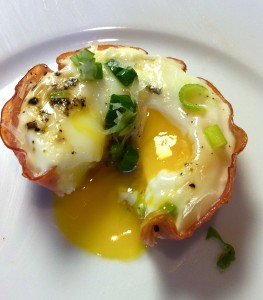 Braised Brussel Sprouts

Family Recipe Tomato Sauce

Toasted Zucchini Israeli CousCous

Peanut Butter Banana Bread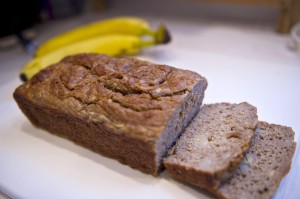 Chili Verde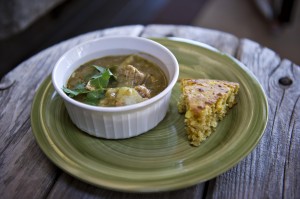 Butternut Squash Soup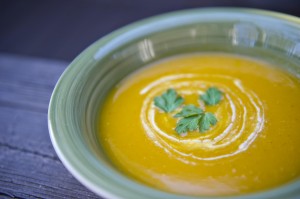 Lemony Blueberry Muffins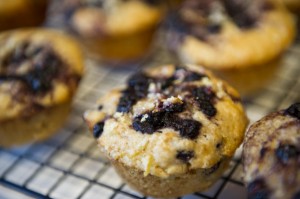 Oatmeal Carrot Cupcakes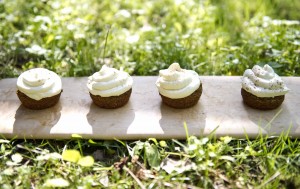 Pineapple Upside Down Pancakes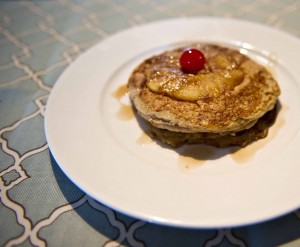 "Fried" Green Tomatoes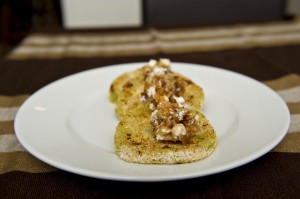 Carrot Ginger Dressing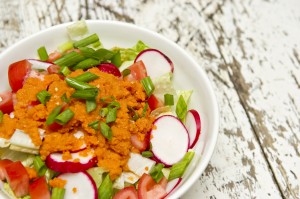 Pumpkin Apple Stew

Pumpkin Chocolate Chip Muffins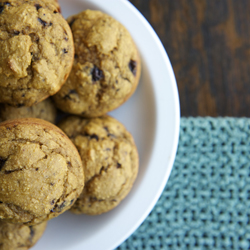 Pablano Corn Chowder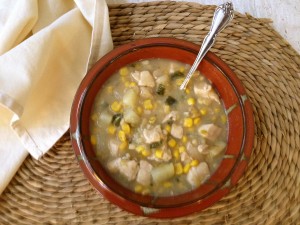 Pumpkin Cheesecake Torte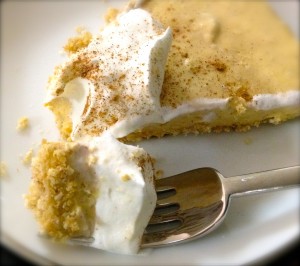 Baked Apple Cider Donuts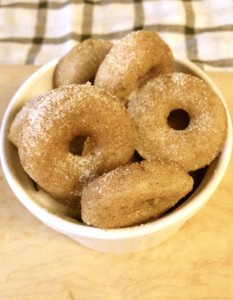 Fancified Deviled Eggs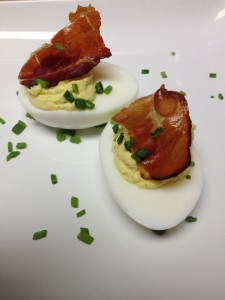 Posted on
December 30, 2011
by
LindsayTarquinio
· 0 comments
Read More
Salsa is such a great, healthy way to add loads of flavor and brightness to pretty much anything. It punches up the flavor of eggs, makes an otherwise boring chicken breast interesting and delicious…serves as a fresh and tasty salad dressing, or obviously tastes amazing with chips and tortillas.
I love most every kind of salsa…but one of my favorites is tart and tangy tomatillo salsa! Y-U-M. The tomatillos offer such a nice, different punch…they set this salsa apart from regular tomato salsas…and roasting the tomatillos and a pablano pepper add a nice, smoky flavor the the salsa!
Roasted Tomatillo Salsa
8 tomatillos
1 pablano pepper
1 clove garlic
1/2 large onion
1 t salt
1 t brown sugar
Preheat the oven to broil. Cut the tomatillos in half, cut the pablano in half and remove the seeds and cut the onion half in half. Place them all on a cookie sheet, seed side down, and spray the tops with cooking spray. Sprinkle everything with salt.
Allow it to cook until the tops turn brown and bubbly.
Now, just toss everything in the blender. Add the garlic, remaining salt, and brown sugar.
Blend for just a bit…be sure to not overblend! You want a nice chunky salsa. Now, pour it on whatever you like! If you want a little spice, throw in some jalapeno!
September 12, 2011
by
LindsayTarquinio
· 0 comments
Read More

I'm back…and I have finally been cooking away! I am loving all of the fresh yumminess that I am finding at the Farmer's Market lately. I've had so much fun experimenting with different fresh veggies and trying to make things that I have never made before.
I am a Southern girl- so of course I LOVE fried green tomatoes…but I wanted to come up with a way to get the crunchy, slightly sour, fresh tasting goodness of a fried green tomato, but with out all of the added fat and calories that come with deep frying. I set out to make a "fried-ish" green tomato…and it worked…it got the Gavin Tarquinio stamp of approval!

Healthified Fried Green Tomatoes
1/4 C bread crumbs
1/4 C corn meal
1/4 C flour (I used whole wheat)
1/2 t garlic powder
1/2 t salt
1/8 t cayenne pepper
1 egg white
1/8 C water or milk (I used water)
3 medium size green tomatoes
In a small bowl, combine the bread crumbs, corn meal, flour, garlic powder, slat and cayenne pepper. Mix everything together.

Next, on a plate, crack one egg (letting just the white fall to the plate) and 1/4 C water or milk. Use a fork and whisk together until it is combined well.

Slice the tomatoes to about a 1/2 inch thick. Coat both sides of the tomato with the egg white mixture and then dredge both sides in the bread crumb mixture.

Heat a medium non-stick skillet to medium and spray with olive oil cooking spray. Once the pan is hot, place a few (do not over crowd) tomatoes in for about 1 minute and then COVER the plan. Allow to cook about 1 more minute and then flip the tomatoes. Leave them uncovered while to opposite side cooks!

Now, for the AMA-ZING topping (I think this part is a MUST!) You know that I have a slight obsession with figs…and that I recently made some great preserves (you can buy fig preserves at any grocery store as well). So, I thought the tartness of the tomatoes would go well with the sweetness of figs…and be made even better with a little goat cheese and walnuts. It is not only good on the tomatoes but amazing on chicken or pork!

Fig and Goat Cheese Crumble
1/4 C walnuts
1/4 t salt
1/4 C fig preserves
1/4 C goat cheese (crumbled)
Gently crumble all of the ingredients together in a small bowl and then top the tomatoes…yum!!
Posted on
September 2, 2011
by
LindsayTarquinio
· 0 comments
Read More