Its no secret that I love my veggies- and that I love hosting brunch…for really ANY reason. It's your birthday? Let's have a brunch! It's Saturday? Let's have a brunch! It's President's Day? Let's have a brunch! You get the idea…brunch is my favorite meal to cook, to eat, and to host. So, I am always trying to come up with fun new menu items so that I don't bore my friends and family.
I made this egg bake for a family brunch- and though I had a lot of biscuit and gravy lovin' folks around the table- this healthy, colorful egg bake was quite a hit!
I served it with a simple sweet potato hash, some lovely maple glazed bacon, and a my banana oat muffins for good measure! The veggies load it full of vitamins, fiber and beauty…the eggs add protein and yumminess to make this the perfect breakfast bake…its super easy to make- and the veggies can be roasted ahead of time so that all you have to do is heat up the oven, crack the eggs and bake!
Superfood Egg Bake
1/2 C sweet onion, cut into 1″ pieces
1 /2 C yellow, red or orange bell pepper, cut into 1″ pieces
1/2 C zucchini, cut into 1″ pieces
1/2 C yellow squash, cut into 1″ pieces
1 C Kale, stems removed, leaves torn into bite size pieces
1/2 t sea salt
1/2 t fresh ground black pepper
a sprinkle of paprika or cayene pepper depending on how much you like spice!
6-8 large eggs
Preheat the oven to 425 degrees. Prepare your vegetables. Spray an OVEN SAFE pan with cooking spray. *I like to use my family's old iron skillet…you can use anything you would like- just remember the handle will be VERY hot when you take it out of the oven!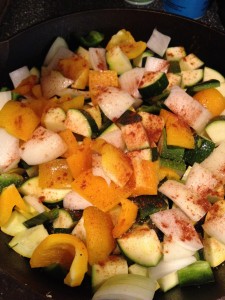 Place all of the veggies **except for the kale** into the pan and roast in the oven for about 30 minutes. After 30 minutes, give the veggies a stir, add the salt and pepper and the kale. Roast for another 10-15 minutes.

Now, carefully crack your eggs on top of the veggie mixture, spacing them evenly throughout the pan.

Bake for 5-7 minutes…until the eggs are cooked the way you like them. I made this for a crowd that did not like their eggs super runny- so I baked it for about 7 minutes. If I were making it just for Gavin and I, I would have done about 5 minutes.

This is great served with a quick sweet potato hash…or whole grain toast.
Posted on
June 29, 2012
by
LindsayTarquinio
· 0 comments
Read More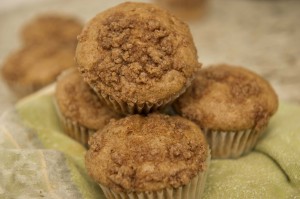 Cinnamon Crumb Cake Muffins
1 1/2 C all-purpose flour
2 1/2 t baking powder
1/2 t sea salt
1 t cinnamon
1/4 C brown sugar
1/4 C white sugar
1 egg
1/3 C 0% plain Greek yogurt
1/2 C almond milk (you can use regular milk or coconut milk as well)
1 t vanilla extract
Crumb Topping
1/8 C white sugar
1/4 C brown sugar
1/4 C white flour
1/4 t sea salt
1 t cinnamon
4 T cold butter
Preheat the oven to 425 degrees. In a medium bowl combine the flour, baking powder, salt and cinnamon. In a larger bowl, mix together the sugars, egg, greek yogurt, almond milk and vanilla extract.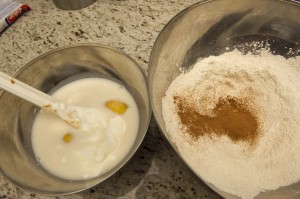 Slowly pour the dry ingredients into the wet ingredients and mix well.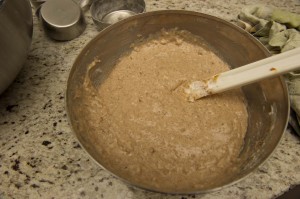 Fill a lined muffin tin with the batter.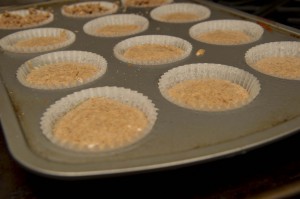 Make the crumb topping by combining all ingredients and pinching the mixture together with your fingertips until a crumble forms.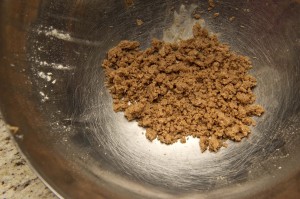 Now, top each muffin with crumb topping.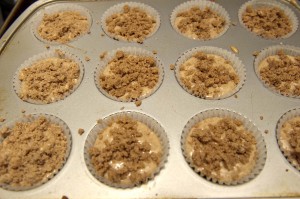 Bake for 18-20 minutes. Cool completely on metal cooling rack. Store in the fridge and reheat for 10 seconds before eating!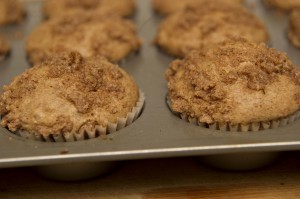 ENJOY!!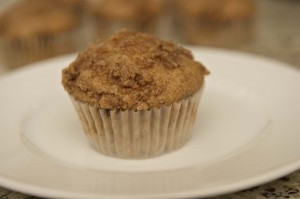 Posted on
June 26, 2012
by
LindsayTarquinio
· 0 comments
Read More

Oatmeal cookies make me think of my Grandpa Howard. Growing up, a trip to Grandma Mary and Grandpa Howard's house meant fresh baked bread, sourdough pancakes, and the BEST oatmeal cookies you have ever had in your life. I remember my mouth starting to water with anticipation whenever we pulled in the driveway. Grandpa Howard is a perfectionist and therefore his cookies are perfect every. single. time. He painstakingly grinds pecans into a fine flour to give the cookies a nutty, decadent taste without the big chunks of pecans…he measures each item with precision and the result is heavenly.

Sticking with my motto of never messing with a perfected family recipe…I went an entirely different direction with these oatmeal cookies…I cut the butter, changed the sugar, left out the dairy…and removed the flour-but I added in some fun things as well.

I made these cookies for a friend the other day…but saved a few for Gavin and I to munch on…and I have loved having a yummy, healthy treat in the mornings. The buckwheat flour definitely gives these babies a particular taste…but they are moist and delicious. I keep them in the freezer..and eat them frozen. Gavin likes to let the defrost. Either way, they are a tasty, healthy way to satisfy your sweet tooth!
Gluten Free/Dairy Free Loaded Oatmeal Cookies
makes 20 cookies
1 C buckwheat flour
1/2 C shredded coconut
1 teaspoon baking soda
***1/2 t xanthum gum **this is optional, I made them with and without…it just makes them stick together a little better
1 t kosher salt
1 1/2 t ground cinnamon
3 C old fashion oats *make sure they are certified GF
4 T coconut oil
4 T apple sauce
1/2 C brown sugar
1/2 C dehydrated cane juice (you can use white sugar)
2 eggs
1 t vanilla
1/4 C raisins
1/4 C golden raisins
1/4 C dried cranberries
Preheat the oven to 350 degrees. In a medium bowl, combine the flour, coconut, baking soda, salt, *xanthum gum, salt and oats. In a large bowl, mix together the coconut oil, apple sauce, brown sugar, cane juice, eggs and vanilla.
Combine the wet and dry ingredients. Mix in the raisins and cranberries.
On a lined baking sheet, drop tablespoonfuls of the batter about 1 inch apart. (I gently pressed each cookie a little before baking).
Bake for 10 minutes. Allow to cool completely on a cooling rack. Store in the refrigerator.
Posted on
June 18, 2012
by
LindsayTarquinio
· 0 comments
Read More
Strawberries make me think of summer…and summer makes me think of long weekends at the lake…and long weekends at the lake make me think of family, sunshine, relaxation, and delicious food! As we are packing up to head to North Georgia for Memorial Day, I have been busy baking some fun summer treats to bring along.

Though they are made with white flour, and white sugar…they are balanced by nutrient packed berries, protein rich yogurt, and perfectly light apple sauce. The brown butter topping adds just the right amount of decadence to make these muffins feel like a special breakfast time treat.

Strawberry Brown Butter Muffins
makes 12 muffins
2 1/4 cups all-purpose flour
1 Tablespoon baking powder
1/2 teaspoon salt
2 eggs
1/3 cup sugar
1/2 cup milk
1/2 cup 0% plain greek yogurt
1/3 cup apple sauce
1 1/2 cups chopped fresh strawberries
Brown Butter Topping
1/8 cup all-purpose flour
1/4 cup white sugar
2 tablespoons cold butter, cut into little cubes
Preheat your oven to 425 degrees and prepare your muffin tin with non stick spray of muffin liners.
In a large bowl combine the flour, baking powder and salt. In a separate bowl, whisk the eggs, then add the sugar, milk, greek yogurt and apple sauce. Mix well. Next, combine the dry and wet ingredients. When they are well mixed, gently fold in the strawberries.

Now, fill your muffin tin and set it aside. In a small bowl, pinch together the butter, sugar and flour until it forms a crumble (make sure that there are no big chunks of butter).

Now sprinkle even amounts on each muffin.

Bake for 20-25 minutes- just until the tops are firm and the butter starts to slightly brown.

Posted on
May 25, 2012
by
LindsayTarquinio
· 0 comments
Read More