The weather in New York has turned cold. Really, really cold! The kind of cold that makes a girl from Georgia want to bundle up on the sofa with a giant furry blanket, knee high wool socks and a big sweater. But, life must go on…the cold winter days simply can't be spent hidden away in your apartment- that would be utterly depressing! So, I have purchased a giant down coat, a big knit hat, furry ear muffs, leather gloves and thick wool socks…and I trot around the city, facing the bitter cold…and love every single minute of it!
But, at night, when I get home- this winter cold is making me crave warm comfort food. When you grow up in Georgia, comfort food means grits, cream of wheat, and my favorite- chicken & dumplin's (you can't add the "g" on dumplings because it just doesn't seem as special)!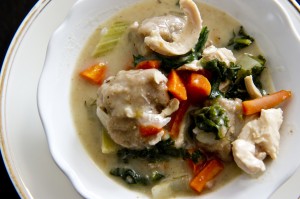 Though I crave comfort food- I still like to give it a healthy-feel good twist. It can be warm and delicious but still full of whole grains, green vitamin rich veggies and lean protein. That is exactly what this crave-worthy dish is.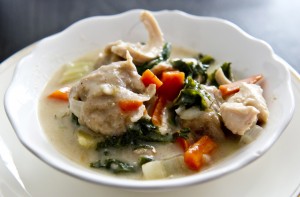 Whole Wheat Chicken & Dumplin's
serves 6
For the stew:
2 large celery stalks, chopped
2 large carrots, chopped
1 large onion, chopped
1 T olive oil
1 t sea salt
1 t fresh cracked black pepper
1/8 t dried rosemary
2 chicken breasts, chopped
4 C low sodium chicken stock
1 C milk
3 T whole wheat flour
2 C kale leaves
For the Dumplings:
1 1/2 C whole wheat pastry flour *you can use half white flour if you want a fluffier texture
1/4 t sea salt
3/4 t baking soda
3/4 C milk
Make the stew:
In a large pot over medium-high heat, sauté the celery, carrot and onion in the olive oil. Add 1/2 t salt and all of the black pepper. Cook until tender. Now, add the rosemary, chicken breast and the other 1/2 t of salt. Cook until the chicken is starting to brown. Now, add the the chicken stock. In a small tupperware, add the milk and flour and shake until combine. Now, add the milk/flour mixture to the pot. Reduce heat to medium low, cover and allow to cook while you make the dumplings.
Make the dumplings:
Combine the flour, sea salt and baking soda. Mix well. Now, pour in the milk and mix- **just until all of the flour is wet.
Now, gently drop heaping teaspoons of the dumpling mixture into to simmering pot. Cover and allow to simmer for about 15 minutes…just until the dumplings are puffy. Now, gently mix in the kale and turn off the heat.
Serve!
2
Hey, like this post? Why not share it with a friend?
Tweet

Posted on
January 3, 2013
by
LindsayTarquinio
· 0 comments