Well, that title is a mouth full..(excuse me while I am extremely cheesy) but this salad is a mouth full of goodness! I love this beautiful golden grain, farro so much- and I want you to love it to- so I really hope that after reading this, you will drive to your nearest market and make this recipe!
Posted on
January 21, 2012
by
LindsayTarquinio
· 0 comments
Read More
This afternoon I found a beautiful piece of tuna on special at the store…and I got really excited! Due to our (very) limited budget, we pretty much stick to chicken, tofu and eggs as our sources of protein- so when I saw tuna at a price that fit my budget, I snatched it up and went home to throw dinner together.
I decided to let the tuna speak for itself and prepare it very simply. I marinated it in a little soy sauce, sesame oil and black pepper and then seared it on each side. I served in on top of some lovely field greens and topped it with all sorts of fun salad goodies! This was a super simple week night meal and you can EASILY make it with steak, chicken or shrimp.
Seared Tuna Salad
serves 2
1 8oz tuna steak
2 T soy sauce
1/2 t sesame oil
1 t black pepper
3C field greens
1/4 C fuji apple, cut into strips
1/4 C carrot, cut into strips
1/4 C daikon radish, cut into strips
1 t fresh ginger, chopped
1/4 C edamame, shelled
1/2 lemon, juiced
2 T soy sauce
1/2 t sugar or agave
1/8 C cashews, chopped
Mix together the sesame oil, soy sauce and black pepper. Pour it on top of the tun and allow it to marinate for about 20 minutes.
While the tuna is marinating, prepare your salad. Place the field greens in a bowl. In a separate bowl, mix together the apple, carrot, radish, ginger, edamame, soy sauce, lemon juice and sugar or agave. Toss everything together.
Now, heat a pan on high. When the pan is very hot, spray it with cooking spray and then place your tuna in the pan. Cook for about 2 minutes on each side. When the tuna is done, slice it AGAINST THE GRAIN.
Place the tuna on top of your field greens. Now, top it with the carrot, radish mixture and pour on the remaining sauce. Top each salad with cashews. Enjoy!
Posted on
January 10, 2012
by
LindsayTarquinio
· 0 comments
Read More
It feels like just yesterday I was ringing in the New Year with Gavin, my brother and Katie…and here we are about to do it all over again! This year was FULL of wonderful adventures, great times with friends and family, lots of travel and tons of yummy food! So, in honor of this lovely year ending (and to stick with the theme of every stinkin' TV show, website and blog) here are my favorite recipes from 2011.
Baked Eggs in Ham Cups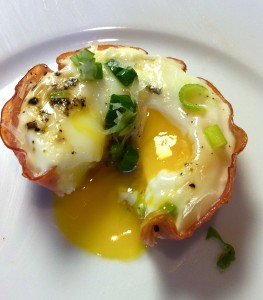 Braised Brussel Sprouts

Family Recipe Tomato Sauce

Toasted Zucchini Israeli CousCous

Peanut Butter Banana Bread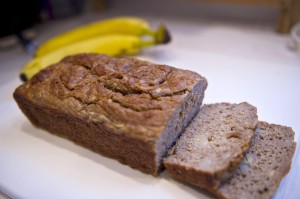 Chili Verde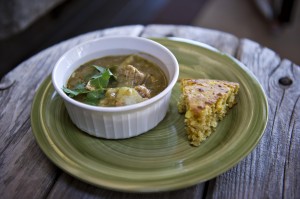 Butternut Squash Soup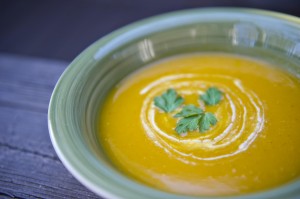 Lemony Blueberry Muffins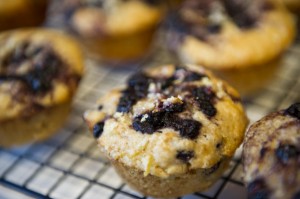 Oatmeal Carrot Cupcakes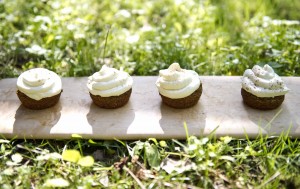 Pineapple Upside Down Pancakes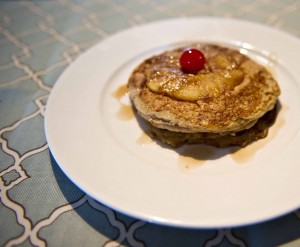 "Fried" Green Tomatoes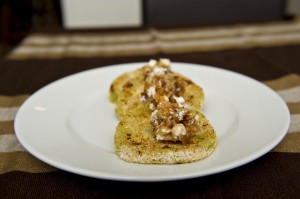 Carrot Ginger Dressing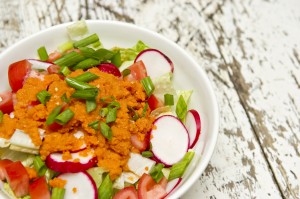 Pumpkin Apple Stew

Pumpkin Chocolate Chip Muffins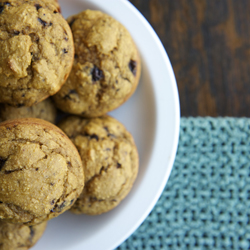 Pablano Corn Chowder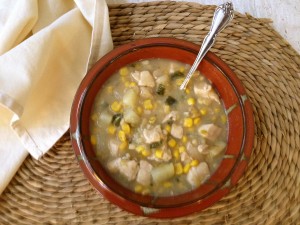 Pumpkin Cheesecake Torte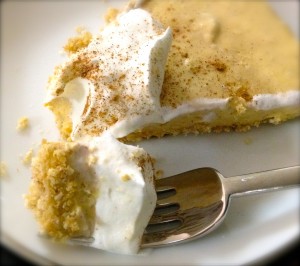 Baked Apple Cider Donuts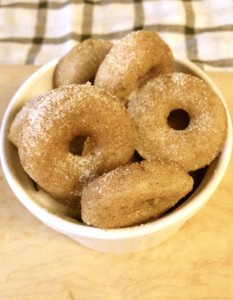 Fancified Deviled Eggs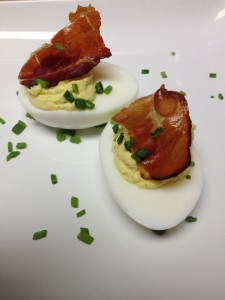 Posted on
December 30, 2011
by
LindsayTarquinio
· 0 comments
Read More
Gavin and I work from home…and therefore, we eat lunch at home pretty much every day. I love being able to eat in…save money, and have healthy meals- but sometimes, I run out of creative lunch options for us…and in that case, I go to something that I know is simple and always good…a big, throw everything that sounds good in a bowl- salad. Topped with a super simple, super easy dressing.

I like to mix up my dressings pretty frequently, but this one is a consistent favorite. Its tangy and light, but also sweet. It goes great with fruit, nuts, and any kind of crumbly cheese.
Seasoned Rice Vinaigrette
1/2 cup seasoned rice vinegar
2 T dijon mustard
2 T brown sugar
1/2 t salt
1 clove garlic

Throw all of these ingredients in a magic bullet or blender, and blend for about 30 seconds…until everything is mixed well and creamy looking.

Simple Salad
2 C Leafy greens
2 T blue cheese
1 T chopped walnuts
1 T dried cranberries
1/2 Fuji apple
1/8 thinly sliced onion
thinly sliced chicken breast
Throw it all in a bowl, drizzle with dressing and toss it together!
Posted on
September 17, 2011
by
LindsayTarquinio
· 0 comments
Read More