Gavin and I work from home…and therefore, we eat lunch at home pretty much every day. I love being able to eat in…save money, and have healthy meals- but sometimes, I run out of creative lunch options for us…and in that case, I go to something that I know is simple and always good…a big, throw everything that sounds good in a bowl- salad. Topped with a super simple, super easy dressing.

I like to mix up my dressings pretty frequently, but this one is a consistent favorite. Its tangy and light, but also sweet. It goes great with fruit, nuts, and any kind of crumbly cheese.
Seasoned Rice Vinaigrette
1/2 cup seasoned rice vinegar
2 T dijon mustard
2 T brown sugar
1/2 t salt
1 clove garlic

Throw all of these ingredients in a magic bullet or blender, and blend for about 30 seconds…until everything is mixed well and creamy looking.

Simple Salad
2 C Leafy greens
2 T blue cheese
1 T chopped walnuts
1 T dried cranberries
1/2 Fuji apple
1/8 thinly sliced onion
thinly sliced chicken breast
Throw it all in a bowl, drizzle with dressing and toss it together!
Posted on
September 17, 2011
by
LindsayTarquinio
· 0 comments
Read More
Salsa is such a great, healthy way to add loads of flavor and brightness to pretty much anything. It punches up the flavor of eggs, makes an otherwise boring chicken breast interesting and delicious…serves as a fresh and tasty salad dressing, or obviously tastes amazing with chips and tortillas.
I love most every kind of salsa…but one of my favorites is tart and tangy tomatillo salsa! Y-U-M. The tomatillos offer such a nice, different punch…they set this salsa apart from regular tomato salsas…and roasting the tomatillos and a pablano pepper add a nice, smoky flavor the the salsa!
Roasted Tomatillo Salsa
8 tomatillos
1 pablano pepper
1 clove garlic
1/2 large onion
1 t salt
1 t brown sugar
Preheat the oven to broil. Cut the tomatillos in half, cut the pablano in half and remove the seeds and cut the onion half in half. Place them all on a cookie sheet, seed side down, and spray the tops with cooking spray. Sprinkle everything with salt.
Allow it to cook until the tops turn brown and bubbly.
Now, just toss everything in the blender. Add the garlic, remaining salt, and brown sugar.
Blend for just a bit…be sure to not overblend! You want a nice chunky salsa. Now, pour it on whatever you like! If you want a little spice, throw in some jalapeno!
September 12, 2011
by
LindsayTarquinio
· 0 comments
Read More
One of my favorite treats is a great sushi date with Gavin. Not many things top a beautiful plate of sashimi for me…but sushi isn't just about the raw fish…the experience isn't complete without warm miso soup and cool, refreshing ginger dressing topped salad.
I CRAVE ginger dressing- but I think that it is pretty much impossible to find a store bought dressing that is anything near the lovely flavor of the restaurant version. So, I whipped out my blender and decided to experiment!
Here is what I came up with: it is bright and flavorful, super healthy, and the perfect topping to any salad…or the perfect add in to any stir fry!
Carrot Ginger Dressing

2 medium carrots
1 inch chunk of fresh ginger
1 clove garlic
2 T soy sauce
1/4 C seasoned rice vinegar
3 T water
1 t sesame oil
1 t fresh cracked pepper (I like it really peppery- you can reduce this or leave it out all together!
Throw all of the ingredients into a blender- and blend until smooth! Wa-la!
September 9, 2011
by
LindsayTarquinio
· 0 comments
Read More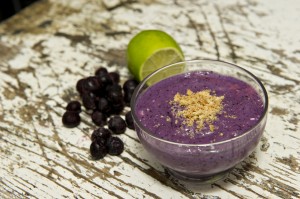 When I want a fix of something sweet, cold, and satisfying I head into the kitchen and pull out the blender. Now, smoothie's quite as creamy and satisfying as say, a big bowl of ice cream, or a slice of blueberry cheese cake…BUT, this one is pretty darn close…if you ask me!
You get the creamy, tart flavor of cream cheese and the sweet, lovely flavor of blueberries…and if you like, the added satisfaction of a nice graham cracker crumble. I like the serve this smoothie in a bowl…because it just seems more like a dessert that way!

8 cubes of ice
1/2 C blueberries
4 T Fat Free or Reduced Fat Cream Cheese
2 T Greek Yogurt
2 packets of Truvia (or 1 T sugar)
Juice of 1/4 a lime
1/2 t vanilla extract
a pinch of salt
3/4 C Milk (I used unsweetened Almond milk)
Put it all in the blender and blend it up until its smooth and creamy! Top with graham cracker crumbs or granola…or your favorite cereal.
Posted on
September 6, 2011
by
LindsayTarquinio
· 0 comments
Read More