Fall weather is rolling in to NYC. I'm not gonna lie, I am a bit nervous about these cool temperatures greeting us so early! At this time of year in Atlanta, shorts and tank tops totally suffice. Here, scarves and cute fall jackets have started gracing us with their presences. I'm not complaining! Fall is my favorite time of year…I love the cool air and amazing evening walks by the water (its Winter that I am a bit worried about)!! But, in honor of Fall, I decided to end by apparent recipe blogging hiatus with a wonderful Fall chili!
This dish is perfect for a football party, a quick family dinner, or a make ahead, grab and go lunch. I made this chili for some friends last Fall and literally had people asking me to make it in very large batches to deliver to their homes! I hope you like it :)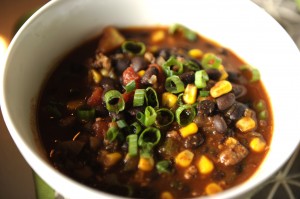 Fresh Corn and Black Bean Chili
Serves 8
1 large onion, chopped
1 large green pepper, chopped
diced fresh jalapeno to taste
1 lb ground turkey breast (optional)-if you omit add 2 extra cans of black beans
1 t salt
2 t chipotle powder
2 t chili powder
2 t cumin powder
1 t ground coriander
1 1/2 T brown sugar
2 cans black beans
4 ears of corn (cut off the cob)
1 large can diced tomatoes
2 cans chicken stock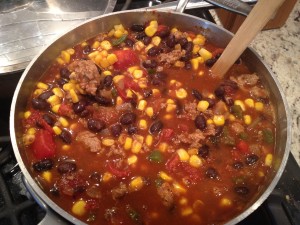 In a large pot over medium heat, saute the onions, peppers and jalapeño for about 5 minutes. Now, add the ground turkey, salt, chipotle powder, cumin, chili powder, coriander and brown sugar. Cook until the turkey is cooked through…use a large spoon to crumble the turkey as it cooks. Now, add the black beans and fresh corn. Stir well and cook for about 3 minutes. Last, add the tomatoes and chicken stock and cook over medium heat until it comes to a boil. Reduce and let simmer for about 15 minutes.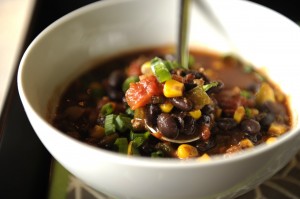 This chili is wonderful topped with fresh cilantro and a dollop of sour cream. It stores well in the fridge!
0
Hey, like this post? Why not share it with a friend?
Tweet

Posted on
September 27, 2012
by
LindsayTarquinio
· 0 comments