Last weekend, Gavin and I had the opportunity to go to a really lovely event in Brooklyn called Taste Talks. Â It was a weekend full of food-themed conversations and it ended with a fabulous tasting party by the East River.
Posted on
September 26, 2013
by
LindsayTarquinio
· 1 comment
Read More
Its no secret that I love my veggies- and that I love hosting brunch…for really ANY reason. It's your birthday? Let's have a brunch! It's Saturday? Let's have a brunch! It's President's Day? Let's have a brunch! You get the idea…brunch is my favorite meal to cook, to eat, and to host. So, I am always trying to come up with fun new menu items so that I don't bore my friends and family.
I made this egg bake for a family brunch- and though I had a lot of biscuit and gravy lovin' folks around the table- this healthy, colorful egg bake was quite a hit!
I served it with a simple sweet potato hash, some lovely maple glazed bacon, and a my banana oat muffins for good measure! The veggies load it full of vitamins, fiber and beauty…the eggs add protein and yumminess to make this the perfect breakfast bake…its super easy to make- and the veggies can be roasted ahead of time so that all you have to do is heat up the oven, crack the eggs and bake!
Superfood Egg Bake
1/2 C sweet onion, cut into 1″ pieces
1 /2 C yellow, red or orange bell pepper, cut into 1″ pieces
1/2 C zucchini, cut into 1″ pieces
1/2 C yellow squash, cut into 1″ pieces
1 C Kale, stems removed, leaves torn into bite size pieces
1/2 t sea salt
1/2 t fresh ground black pepper
a sprinkle of paprika or cayene pepper depending on how much you like spice!
6-8 large eggs
Preheat the oven to 425 degrees. Prepare your vegetables. Spray an OVEN SAFE pan with cooking spray. *I like to use my family's old iron skillet…you can use anything you would like- just remember the handle will be VERY hot when you take it out of the oven!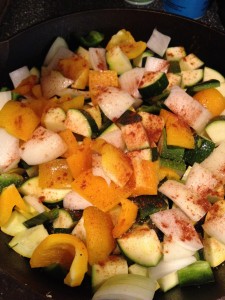 Place all of the veggies **except for the kale** into the pan and roast in the oven for about 30 minutes. After 30 minutes, give the veggies a stir, add the salt and pepper and the kale. Roast for another 10-15 minutes.

Now, carefully crack your eggs on top of the veggie mixture, spacing them evenly throughout the pan.

Bake for 5-7 minutes…until the eggs are cooked the way you like them. I made this for a crowd that did not like their eggs super runny- so I baked it for about 7 minutes. If I were making it just for Gavin and I, I would have done about 5 minutes.

This is great served with a quick sweet potato hash…or whole grain toast.
Posted on
June 29, 2012
by
LindsayTarquinio
· 0 comments
Read More

When I think of comfort food, meatloaf is one of the first things that pops into my mind. Growing up, my Mema was famous for her meatloaf- moist and delicious- served with mashed potatoes and drenched in brown gravy made from the drippings. Holy cow, it was good! When a meal in your family is that iconic, its a pretty good rule to not mess with it- so, when I set out to make meatloaf- I went an entirely different direction…toward the flavors of India!
This meatloaf pairs perfectly with a big pile of basmati rice, cooked with golden raisins and sprinkled with chopped nuts. The white meat turkey keeps it nice and lean- the plethora of veggies keeps in moist- and the lovely array of spices keep it interesting!
This dish has become a staple in our house- hopefully your family will love it too!
Tandoori Turkey Meatloaf
1/2 C onion, finely chopped
1/2 C celery, finely chopped
1/2 C carrot, grated (not packed)
16 oz white meat ground turkey breast
1 egg
1/4 C bread crumbs or 1 piece of bread
1/8 C milk
1/2 t sea salt
1/2 t cumin powder
1/2 t tumeric
1 t curry powder
1/2 t ground coriander
2 T tomato paste
1 T worcestershire sauce
Curried Ketchup
4 T tomato paste
1 t cumin
1 t curry powder
1 t brown sugar
1 T apple cider vinegar
2 T water
1/2 t sea salt
Preheat the oven to 425 degrees.
In a medium pan over medium high heat, combine the onion, celery and carrot. Cook until tender…about 5 minutes.
In a large bowl, combine the turkey, egg, bread crumbs, milk (**if you are using a slice of bread, soak the bread in the milk and then crumble it in**), and all of the remaining spices and ingredients. Now, pour the veggie mixture on top. Using your hands, kneed and combine the mixture until all of the ingredients are evenly distributed throughout the turkey.
Prepare a large cookie sheet by spraying it with cooking spray or covering it with aluminum foil. Using your hands, shape and pack the meatloaf.
Now, make your Curried Ketchup topping. In a bowl, combine all of the ingredients and mix well. Using the back of a spoon or a brush, coat the top of your meatloaf with ketchup. Any extra can be reserved for serving!
Bake the loaf at 425 degrees for 30 minutes. Let it rest for 5 minutes before serving!
*To make the rice, combine basmati rice, water, salt and raisins. Cook until tender and then top with your favorite chopped nut!
May 16, 2012
by
LindsayTarquinio
· 0 comments
Read More
I will interrupt my travel tales to share a quick recipe with you- because I'm really excited about this one! When Spring is in the air, I absolutely love packing a simple little picnic, driving over to Piedmont Park, and having and outdoor dinner followed by a long walk around the park. Picnics and Springtime are one lovely combination…and the easiest way to create a lovely picnic is to have a sandwich be the star of the show.

I'm not talking about a boring turkey on white here- I'm talking about a delicious flavor explosion served with toasted cranberry walnut bread (or whatever bread/ lettuce wrap is your favorite)- it is the perfect, quick and easy picnic entree or grab and go lunch.

This chicken salad is mayo-free and therefore MUCH healthier than any store bought/restaurant purchased alternative….I promise, you won't miss the added fat at all…its creamy and delicious and full of light Spring time flavors! I like to make a big batch at the beginning of the week and have it as a quick healthy snack or lunch that's ready to go in the fridge.
Spring Chicken Salad
2 lb chicken breast
1 t garlic powder
1 t sea salt
1/2 C celery, chopped
1/4 C sweet onion, chopped
1/2 C apple, chopped
1/2 C green grapes, quartered
1/4 C walnuts, chopped
1/2 C 0% plain greek yogurt
2 T dijon mustard
2 T 1/3 less fat cream cheese, softened
1/2 t sea salt
1 t fresh cracked black pepper
1/4 C green onion, chopped
Preheat the oven to 375 degrees. Place your chicken in a glass baking dish (the kind with sides) and sprinkle the breasts with salt and garlic powder. Drizzle about 2 T of water in the dish and cover with aluminum foil. Bake for about 25 minutes- until chicken is cooked through.
When the chicken is cooked, remove it from the oven and allow it to cool. While it is cooling, chop the other ingredients. When the chicken is cool, chop it into small pieces.
In a large bowl, combine the chicken, celery, onion, apple, green grapes, and walnuts.
In a separate bowl, combine the greek yogurt, dijon mustard, cream cheese, sea salt and black pepper. Whisk until smooth and then stir the mixture into the chicken.
Top it with green onion and stir to combine.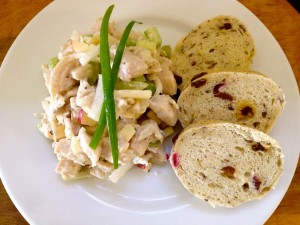 Now, all you have to do is dust off your picnic basket, choose your favorite bread and head the the park! If you're looking for a few other treats to complete your picnic- here are a few ideas:
Appetizer: Fancified Deviled Eggs
Side: Field greens tossed with Seasoned Rice Vinaigrette
Dessert: Cashew muffins with Coconut Crumble
Posted on
April 23, 2012
by
LindsayTarquinio
· 0 comments
Read More