All of the delicious flavor of apple pie- all of the nutrition of 0% greek yogurt, slow cook oatmeal and fresh apples. What's not to love!?
The other morning, Gavin was craving something sweet for breakfast and I have been dreaming up new recipes using oatmeal- so, I decided to whip up an idea that has been floating around in my head. I wanted to mimic the flavors of a nice warm piece of apple pie, al a mode…while keeping things light and healthy!
This parfait is the perfect solution. It tastes rich and decadent- but it is nutritious and satisfying! Gavin was a huge fan- and now he requests this lovely little breakfast in a mason jar all the time! All of the parts can be made ahead of time…the apples store great in the fridge and the oatmeal topping keeps well in a sealed container in the pantry.
It's Saturday morning- warm up the oven and give this recipe a try- let me know what you think!
Apple Pie Parfaits
2 parfaits
Pie Topping:
2 C oats
1/4 C brown sugar
1/2 t sea salt
1 egg white
1/2 C apple sauce
2 T coconut oil
Apple Filling:
1 large apple, sliced
2 t brown sugar
1/2 t sea salt
1/2 t cinnamon
1 t flour
2 T water
1 C 0% plain greek yogurt

Preheat the oven to 350 degrees. In a bowl, combine all of the topping ingredients and mix until everything is moist. Spray a cookie sheet with cooking spray and pour the mixture on it. Spread the mixture evenly over the cookie sheet and spray the top with cooking spray. Bake for 25 minutes.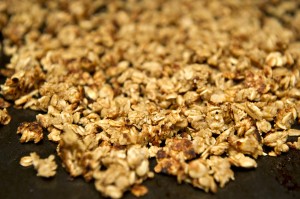 While the oat mixture is baking, in a medium pan over medium heat combine the apple, brown sugar, sea salt and cinnamon. Cook for 5 minutes. Now, add the flour and mix well. Next, add the water and cover. Reduce heat to low and allow to cook for 20 minutes.

To assemble to parfaits, layer greek yogurt and then top with apple pie filling and then top with oat topping. Repeat layers 2-3 times depending on the size of your dish.

2
Hey, like this post? Why not share it with a friend?
Tweet

Posted on
March 17, 2012
by
LindsayTarquinio
· 0 comments