Its no secret that I love my veggies- and that I love hosting brunch…for really ANY reason. It's your birthday? Let's have a brunch! It's Saturday? Let's have a brunch! It's President's Day? Let's have a brunch! You get the idea…brunch is my favorite meal to cook, to eat, and to host. So, I am always trying to come up with fun new menu items so that I don't bore my friends and family.
I made this egg bake for a family brunch- and though I had a lot of biscuit and gravy lovin' folks around the table- this healthy, colorful egg bake was quite a hit!
I served it with a simple sweet potato hash, some lovely maple glazed bacon, and a my banana oat muffins for good measure! The veggies load it full of vitamins, fiber and beauty…the eggs add protein and yumminess to make this the perfect breakfast bake…its super easy to make- and the veggies can be roasted ahead of time so that all you have to do is heat up the oven, crack the eggs and bake!
Superfood Egg Bake
1/2 C sweet onion, cut into 1″ pieces
1 /2 C yellow, red or orange bell pepper, cut into 1″ pieces
1/2 C zucchini, cut into 1″ pieces
1/2 C yellow squash, cut into 1″ pieces
1 C Kale, stems removed, leaves torn into bite size pieces
1/2 t sea salt
1/2 t fresh ground black pepper
a sprinkle of paprika or cayene pepper depending on how much you like spice!
6-8 large eggs
Preheat the oven to 425 degrees. Prepare your vegetables. Spray an OVEN SAFE pan with cooking spray. *I like to use my family's old iron skillet…you can use anything you would like- just remember the handle will be VERY hot when you take it out of the oven!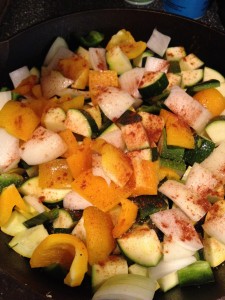 Place all of the veggies **except for the kale** into the pan and roast in the oven for about 30 minutes. After 30 minutes, give the veggies a stir, add the salt and pepper and the kale. Roast for another 10-15 minutes.

Now, carefully crack your eggs on top of the veggie mixture, spacing them evenly throughout the pan.

Bake for 5-7 minutes…until the eggs are cooked the way you like them. I made this for a crowd that did not like their eggs super runny- so I baked it for about 7 minutes. If I were making it just for Gavin and I, I would have done about 5 minutes.

This is great served with a quick sweet potato hash…or whole grain toast.
Posted on
June 29, 2012
by
LindsayTarquinio
· 0 comments
Read More
When I think party in the summer in the South, I think pimento cheese sandwiches, watermelon, sweet iced tea…and deviled eggs!
Now, I am not typically a deviled egg fan. They seem pretty boring…and mayo-y and well, just not too crave worthy. But, a few years ago, Gavin and I were invited to JCT Kitchen for lunch. The people with us insisted on ordering the deviled eggs with country ham as an appetizer…if I would have known how amazing our appetizer would be, I would have been REALLY excited. But, I wasn't, I didn't have high hopes!
A beautiful plate of deviled eggs arrived at our table, and I reluctantly dug in. The flavor explosion that occurred in my mouth was a much welcome surprise…I was in love…and I knew that no deviled egg would ever measure up to these.
Since the JCT version are a little pricey…and since I now crave them, I decided I should try to recreate them!
I read some recipes online, tried to pick out the flavors in the JCT version, and came up with a recipe that I think is pretty close! They are creamy…with a nice added crispness from toasted proscuitto, and perfect for any party…or lunch, or snack! They are just plain good.

Fancified Deviled Eggs
12 large eggs
3 Tablespoons mayo (I used olive oil mayo)
3 Tablespoons room temp cream cheese
3 Tablespoons room temp goat cheese
2 Tablespoons Dijon mustard
1/2 teaspoon sea salt
Fresh cracked black pepper
1 large clove of FRESH crushed garlic
2 small Clausen pickles, diced really small (you can use others but these are definitely best!)
3 pieces of proscuitto
1 green onion (just the green part) finely chopped
Place the eggs in a large saucepan filled with water (one inch above the eggs) and bring it to a boil over high heat. Once the water boils, turn off the heat and let the eggs stand of 10 minutes. Put the cooked eggs into an ice water bath until chilled, and then peel them!
Once the eggs are peeled, cut them in half, length wise and set the yolks aside.

In a medium bowl, mix the mayo, cream cheese, goat cheese, dijon, salt, pepper, garlic and pickle until smooth. Next, add the egg yolks and them, using an electric mixer, beat until creamy.
Now, place the egg whites on a serving platter. Fill a baggie with the yolk mixture (if you have an icing tip, insert it to make the filling prettier…if not, just cut off the corner of the bag and pipe it that way). Fill each white and them place the platter in the fridge to chill.


Next, place the proscuitto on a baking sheet and bake them in a 350 degree oven until crispy…about 7 minutes. Remove the prosiutto from the oven and allow it to cool. Then, break it into 24 jagged looking pieces.

Once the eggs are chilled, remove them from the fridge and top each one with a piece of proscuitto and a sprinkle of green onion.

Posted on
August 13, 2011
by
LindsayTarquinio
· 0 comments
Read More
On Friday night, my very sweet (and very fashionable) aunt asked me to make some appetizers for a fashion show she was hosting at her home.  My Aunt is a CAbi representative…she puts on super fun fashion shows in people's homes and sells really adorable clothes.  She gives the women tips on shoes, handbags, accessories, and how to pair the clothes together.  I have been to a few of the shows before, and they are usually catered…by someone that does catering….for a living!  So, I felt a bit of pressure!   In the midst of the pressure, I forgot to take pictures during the cooking process, but I managed to snap a few (not very great quality) pictures of a some of the dishes!
One of my favorites of the night was Open Face Egg Salad Sandwiches, topped with crispy prosciutto.  These little sandwiches are much healthier than traditional egg salad…there is no mayo!  I was inspired to make them when I was watching Best Thing I Ever Ate on the Food Network.  One of the hosts favorite dishes "served chilled" was a soft boiled egg salad sandwich.  I loved the idea of using the egg's yolk for moisture, so I started experimenting from there.  The result was a healthy, very tasty version of egg salad that is perfect to serve at any brunch, to take to lunch,  or to make for dinner and serve with a nice spinach salad!
Open Face Egg Salad Sandwich
6 Large Eggs
1/4 Cup Olive Oil
2 Lemons
1 clove of garlic
1/2 teaspoon sea salt
1/4 teaspoon fresh cracked black pepper
1/4 cup finely chopped green onions
2 Pieces of Proscuitto
4 Thin slices of your favorite bread (I used Focaccia)
The trickiest part of this recipe is soft boiling the eggs, without them being too soft. Fill a large bowl with ice water.  Then, bring a medium pot, filled half way with water, to a boil.  When the water begins to boil, drop in the eggs and cook for exactly 3 1/2 minutes.  Immediately drop the eggs into the ice water to stop the cooking and allow them to cool until you can peel them.  Peel the eggs,  cut them into 8 pieces  and toss them into a bowl.  Drizzle the eggs with olive oil and squeeze both lemons on them.  Mix in the garlic, salt and pepper.  Put the egg mixture into the fridge to chill.
When you are ready to serve, preheat the oven to 400.  Place the proscuitto on a cookie sheet and bake for about 8 minutes, until crispy.  Brush your bread of choice with olive oil, or spray the tops with cooking spray.  Place the bread slices on a cookie sheet and bake until lightly golden and crispy.  Break your prosciutto into pretty mid-size pieces.  Place a big scoop of egg salad on each piece of bread, sprinkle with green onions and top with a prosciutto.
Makes 4 open sandwiches…2 servings
Posted on
February 7, 2011
by
LindsayTarquinio
· 0 comments
Read More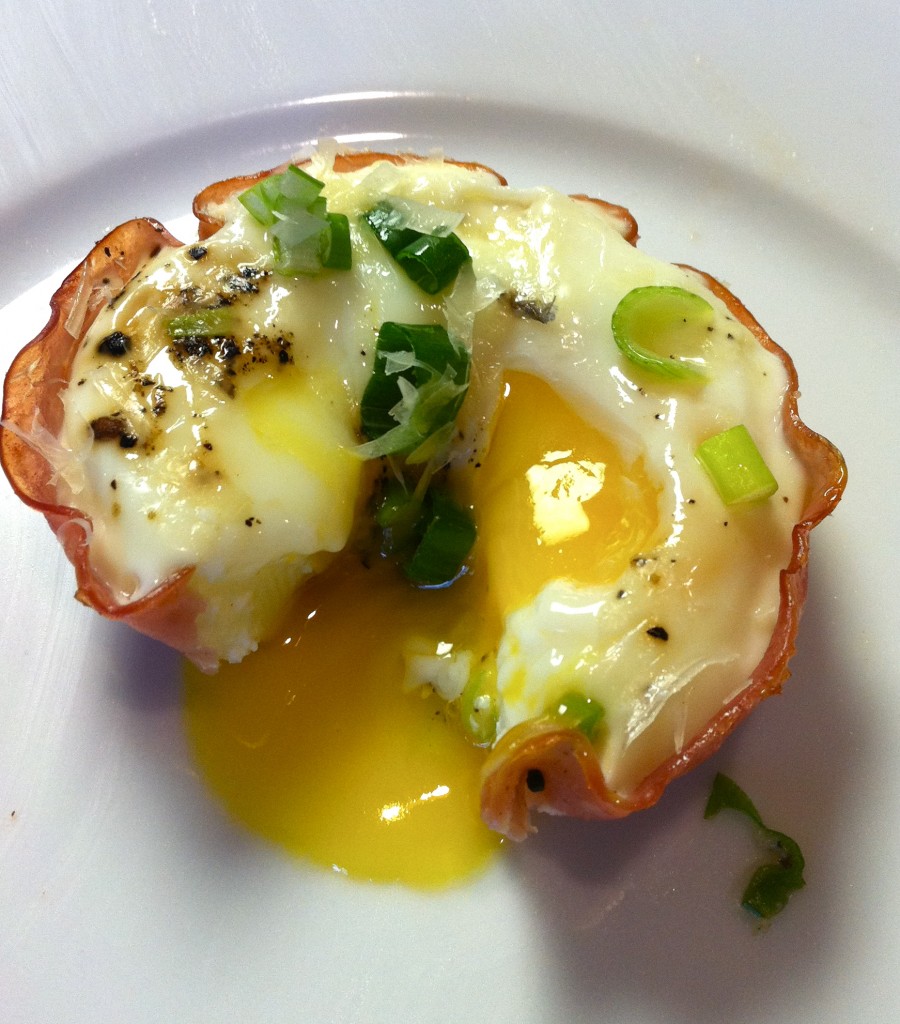 Even though I have had some rough egg experiences lately…the century egg, and little birdie fetus…I have not given up on one of my favorite foods.  While eggs can be made to taste more disgusting than I ever thought possible, they can also be creamy, protein packed perfection and in the case of the baked egg cup, they are just that!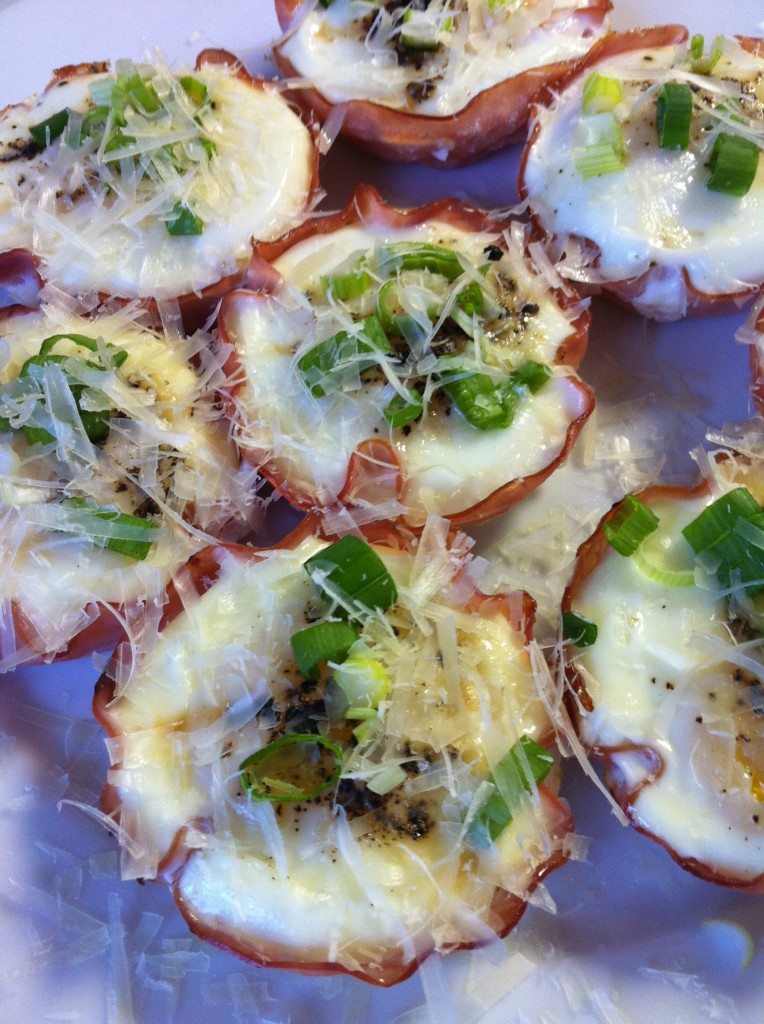 The other morning, we had our friend Zach and one of his friends over for breakfast.  Zach was our travel partner in Cambodia, and he is moving to South Africa on Monday, so we are trying to soak up as much Zach time as possible!  Gavin made some delicious whole wheat banana's foster pancakes (I think I should enlist him has a guest blogger to share his pancake secrets!) and I made baked eggs in ham cups.  These little cups are the perfect pairing with any breakfast…they are SUPER easy to make, and packed full of healthy lean protein…one lovely little cup has only 100 calories and 17.6 grams of protein…not to mention lots of creamy, dreamy cheesy flavors.  So, whether it is Saturday morning brunch, or a quick grab-and-go Monday morning breakfast (you can throw one of these egg cups in a whole wheat english muffin for good food on the go) these egg cups are a definite winner in my book.
Baked Egg Cups
12 Eggs
12 thin slices of deli ham (round)
1/2 Cup of your favorite cheese (I used Parmesan)
1/2 Cup diced scallions
Fresh cracked Sea Salt and Pepper
Preheat the oven to 400.  Spray a muffin tin with cooking spray.  Lay a piece of ham in each hole creating a little ham cup.  Crack one egg into each hole and sprinkle with salt and pepper.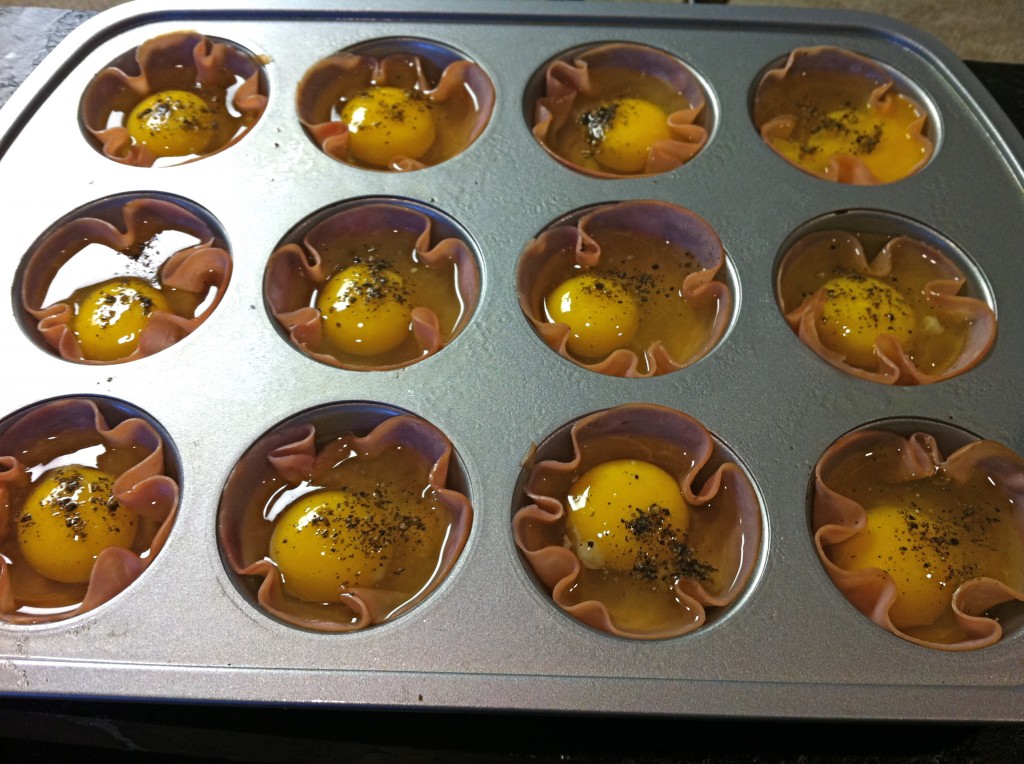 Bake the eggs for about 12 minutes…until the white is firm and the yolk is still nice and runny.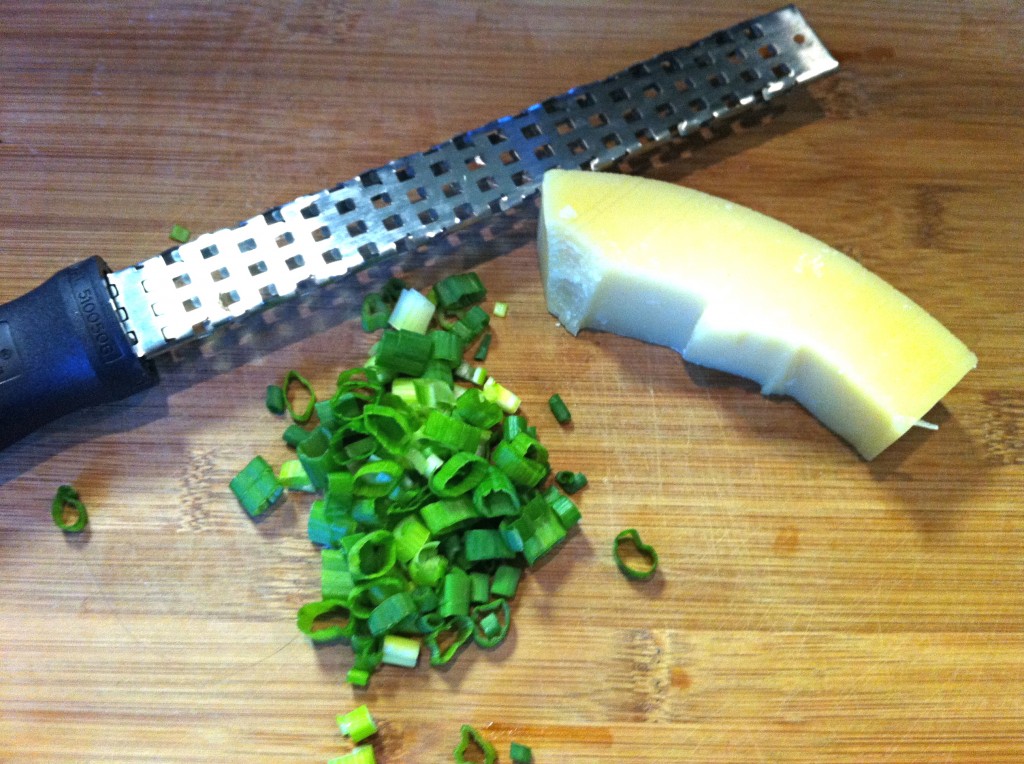 Carefully remove each egg from the muffin tin and top with grated cheese and scallions.  Serve hot!  Yield: 12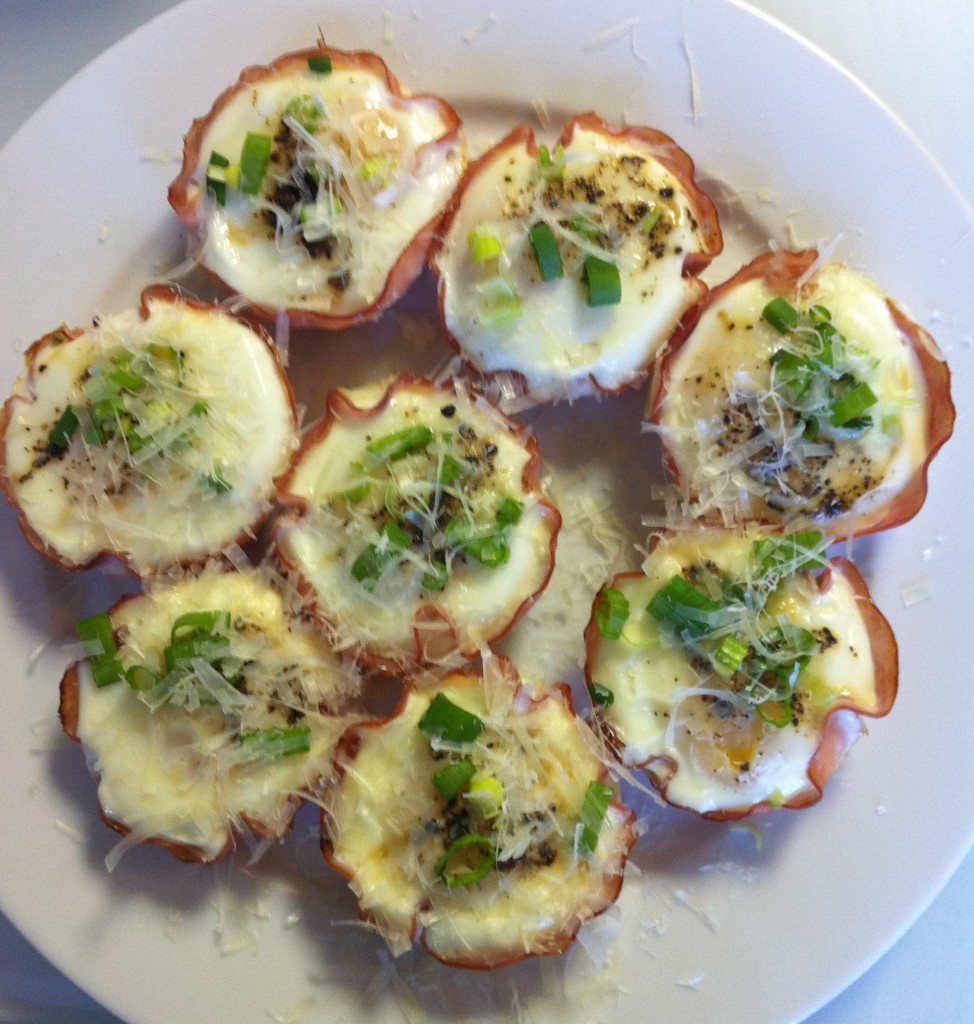 Posted on
January 30, 2011
by
LindsayTarquinio
· 16 comments
Read More